Maui's hottest restaurants and must-eat dishes this summer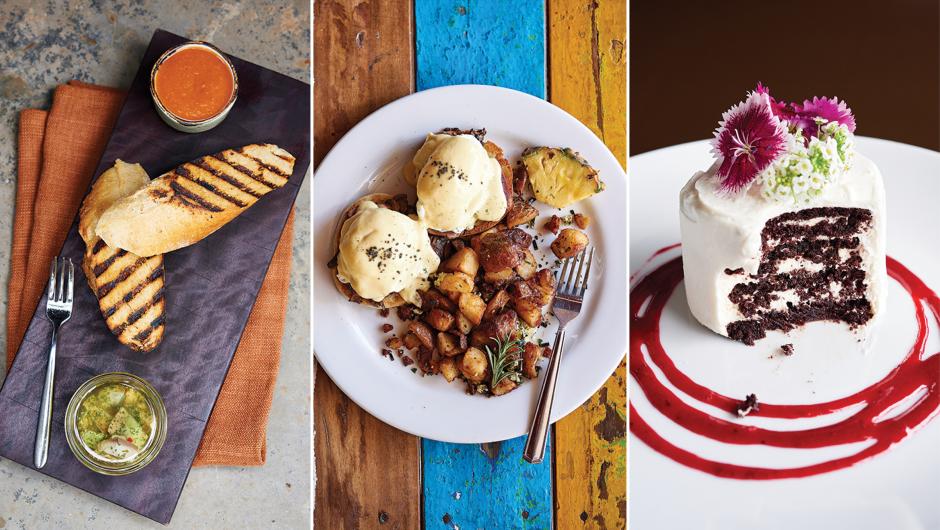 Hear that sound? It's stomachs rumbling over Maui's food scene!
The Valley Isle has been gaining newfound attention as its culinary options continue to grow and rival Oahu's year after year, with new restaurants and food trucks whipping up creative farm-to-table dishes and interesting spins on Hawai'i favorites. Dig in to Maui's newest restaurants and chefs who are raising the bar and creating remarkable dishes you have to try. On your marks, get set, dine!
Bailey's Café
You'd never guess that the owners of the cute Bailey's Café food truck parked in the Haiku Marketplace are new to serving tasty, gourmet plate lunches. Their large helping of shoyu chicken falls right off the bone with a single stab of the fork, after being braised in generous amounts of ginger, garlic and soy sauce, along with some other secret ingredients.
"We're just super passionate about food and decided to give a food truck a try," says Selena Bailey, who'd worked in coffee shops for 10 years before making the decision with her husband, Durien, to launch the business together in the town they grew up in.
The Baileys use as many local and organic foods as possible, plus they create their own homemade sauces. "The element that makes it gourmet is we do everything from scratch and really try to use the best ingredients we possibly can," she says. This is also true of their smoothies and espressos.
Fresh garden salads, chopped steak, fried rice and a teriyaki tofu are also on the menu, with an occasional organic chicken lau lau (meat cooked in wrapped ti leaves) on special—the first item Bailey's Café opened with in April 2015. "We wanted to do something different that would appeal to the masses. Chicken is one of those things that everyone loves and you can't really get lau lau that's organic," says Selena. "The lau lau is such a special food that we really wanted to make it as high quality as we possibly could." Open Monday through Friday, 11 a.m. to 7 p.m. 900 Haiku Rd., Haiku, (808) 276-5753.
The Mill House
Many feast on Maui's landscape daily with their eyes, but executive chef Jeff Scheer proves the island really is good enough to eat at the Mill House.
Sourcing local ingredients from within its own fields at the Maui Tropical Plantation, Scheer has crops at his fingertips any chef with aspirations of a sustainable food future could only dream about. The Mill House actually puts its money—and macadamias and carrots and avocados and arugula—where its mouth is, digging into fields harvested literally yards from the kitchen.
The easy access to them inspires a plethora of picturesque plates Scheer is set to rotate as the seasons dictate: a coffee-roasted beet wading in an espresso streusel and scoop of lemongrass coconut cream; cucumber and roasted eggplant with a sweet-potato granola and a side of kale chips; lilikoi (passionfruit) custard accompanied beside house-made vanilla wafers and edible flowers.
But, more importantly, pretty presentation makes way for satisfying flavors. The saucier spoon is your paintbrush and slices of thick, crusty bread your canvas in the cured akule (big-eyed scad fish) boquerones, served in a tiny glass jar for you to scoop and plate to your appetite's desire. The deceptively modest monchong sandwich is stacked with crunchy, local lettuce that packs a clean, hearty punch with every bite.
The single-page menus, one for lunch, another for dinner, are ambitious, yet still accessible—there's really no good reason the flavors on either shouldn't appeal to everyone. In the afternoon, visitors sporting matching T-shirts munch on fresh, robust salads, right beside a party of four buttoned-up diners, legs crossed, poking at a gnocchi ragu in-between exchanging business cards.
Now, hot off its grand opening this past March, its easy to imagine the Mill House attracting even more serious foodies, and of course, a smattering of chef Scheer groupies who probably already make a pilgrimage to small town Waikapu a monthly thing. Open daily for lunch 11 a.m. to 3 p.m., dinner 5 to 9 p.m., Sundays until 8 p.m. 1670 Honoapi'ilani Hwy., Waikapu, (808) 270-0333, millhousemaui.com.
Shark Pit Social Grill
Named after a popular surf break nearby, Shark Pit Social Grill opened in late-2015 in Lahaina and is the recent evolution of a Maui food truck with the same name. Both are the brainchild of charismatic owner and chef Chris Mahon, a Maui local for 36 years.
If you've never been "bit at da pit" before, you'll find that Shark Pit's menu is an adventurous culinary experience. Mahon describes his cuisine as "funked up farm food," a mix of Asian fusion and American soul food with an island feel. The restaurant's menu is similar to the food truck and includes favorites of Korean steak tacos, furikake-dusted corn on the cob, Fuji-apple oyster shooters, Filipino pork belly and his award-winning fried Brussels sprouts with bacon, unagi glaze and Parmesan cheese, all using organic, locally grown produce, free-range chicken, local fish and grass-fed beef.
The chef also has a knack for making creative concoctions that stems back to childhood. "My brother and sister called me the pantry chef because I could find random things and make gourmet meals," he says. He often creates specialty dishes that aren't on the menu. Shark Pit Social Grill is gourmet, big-city food with a modest price tag, and the environment is as laid back as it can get, a brick-and-mortar restaurant tucked away in an understated complex next to Jamba Juice in the Old Lahaina Center. Open Monday through Saturday 11 a.m. to 3 p.m. and 6 to 10 p.m.; Sunday 6 to 10 p.m. 170 Papalaua St., Lahaina, facebook.com/dasharkpitmaui.
Nalu's South Shore Grill
Ron Panzo knew he wanted to try something different at Nalu's. He'd been a partner at Lulu's Lahaina and Waikīkī for many years, and worked at Nick's Fishmarket under restaurateur Aaron Placourakis, the president and CEO of Tri-Star Restaurant Group, for 30 years, beginning as a dishwasher and leaving as director of operations. When it came to Nalu's, he wanted to open something smaller, without servers or hostesses, more of a quick-service restaurant.
"That's what I saw at these places I was visiting in Napa, San Francisco and Nevada, these really cool, counter-style restaurants," says Panzo. "You could really feel the farm-to-table in them. Fresh juice is right in front of you, they're making salads right in front of you, so that's what we're doing at Nalu's."
While some of the items on the menu were taken from Lulu's, such as the black-and-blue ahi eggs Benedict and the French toast stuffed with lilikoi marmalade cream (taken up a notch with the addition of a corn-flake crust), there are some original menu concepts that were created by Panzo and honed to perfection by Nalu's chef, Preston Hope, like its fried chicken and waffles, apple-brie burger, island-style ribs and salads.
"Our salads are really, really popular. In fact, probably our biggest seller here is our salad. We use all locally grown, fresh organic-greens from Kumu Farms," he says, then stresses Nalu's isn't a health food restaurant. "We're kind of right in the middle of the road. You can get local comfort food or you can get fresh salad, acai bowls or our fresh kale-apple-ginger juice." Open for breakfast 8 a.m. to 2:30 p.m., lunch and dinner 11 a.m. to 9:30 p.m. 1280 S. Kihei Rd., Kihei, (808) 891-8650, nalusmaui.com.