Maui's only chef's table restaurant, nyloS, is the talk of the town
At this intimate Paia spot, there's no menu, just a fine three-course meal that changes nightly.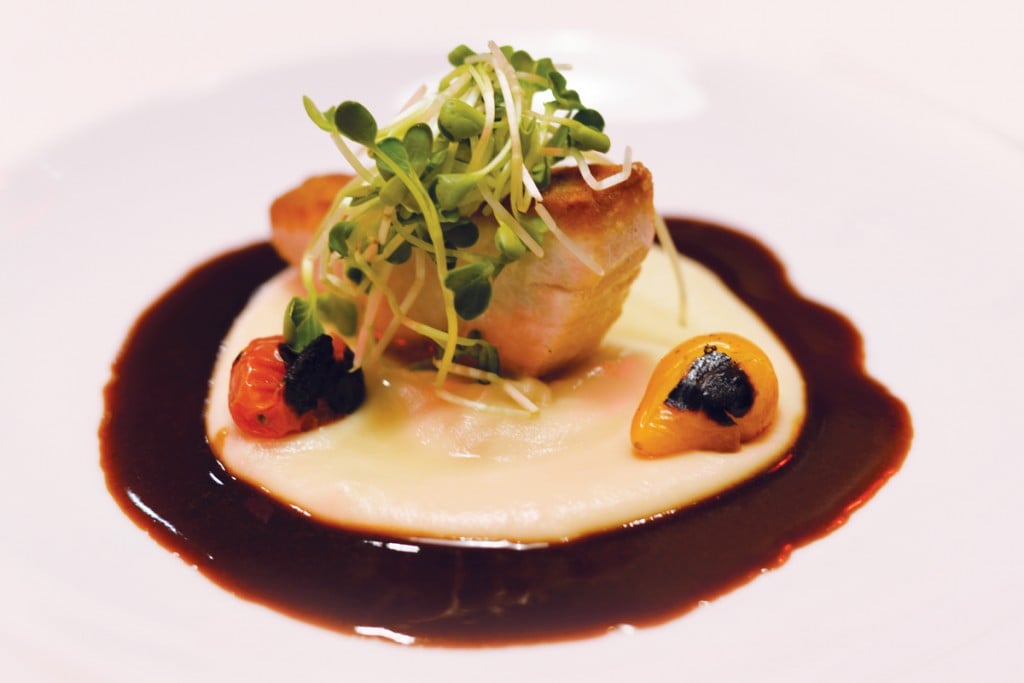 If it's 4 a.m. on a Friday morning, there's a good chance chef Jeremy Solyn is hard at work in his kitchen.
Not the one inside his house, but the one at nyloS restaurant—the intimate dining experience he founded on Maui's north shore.
The entire restaurant is a chef's table dinner; there isn't a menu, in the traditional sense, but a fine prix fixe three-course meal that changes by the night. It's a lot of work for the chef to concoct, curate and cook an entirely new meal each day, and it explains why he's prepping food in the kitchen while the rest of the town is in bed.
All that hard work is paying off, as nyloS restaurant is rapidly making a name for itself in Paia. The name—nyloS—is Solyn's name backward, but it was forward thinking that led him to open the restaurant.
"We felt like it was kind of the time here," says Solyn. "The community has really come a long way, and the space kind of dictated that as well."
That space is a one-room, 14-seat venue that you could almost call a luxurious hole-in-the-wall—if such a thing exists.
Dozens of candles on miniature shelves create a sophisticated ambience, and there's a swanky allure to the warm red lights that hang over the bar. That fanciness is complemented, however, by comfortable touches of home. Cookbooks line a row on the shelf and the refrigerator in the open kitchen is the kind you'd find in your house.
That welcoming feeling is part of the reason why nyloS is such a hit. You still feel like you're out at a restaurant, but it also feels like Solyn's house, where he and his wife, Paulina—who hosts—are having you over for dinner.
When he brings dishes out from the kitchen, Solyn shares how they were made. He'll ask how your day is going or chat about where you're from. The conversation could turn to kids (he and Paulina have four of their own), yet he doesn't let it detract from the evening's main event—the food.
Cooking is Solyn's passion, and as he drizzles organic mirepoix purée on a plate of pan-seared mahimahi, his level of focus is so intense you'd think he was diffusing a bomb. He wants every plate to be perfect, which is why he spends mornings driving around Maui picking up produce from local farms, and evenings personally cooking and serving the food to each guest.
The result is a menu that could feature anything from grilled jumbo shrimp and roasted organic beets, to a housemade pastry with fresh Kula strawberries covered in organic chocolate paint. For some extra flair, he might even garnish the pastry with edible paper that's 99 percent silver.
Because Solyn is a certified sommelier, every three-course meal can be paired with a $45 wine progression, and the wine list has over 80 bottles—comprehensive for a place of this size.
It all adds up to a dining experience unlike anywhere else on Maui, especially when you factor in the north shore location away from high-end resorts.
"You need to differentiate yourself," says Solyn, "if you want to stick around."
Considering the restaurant has been open for 16 months and is the culinary talk of the town, it's safe to say nyloS—and to that point, Solyn—are here in Paia to stay.
NyloS restaurant is open Tuesday through Saturday from 5:30 to 10 p.m. The three-course prix fixe menu is $85 per person; reservations are strongly encouraged. 115 Baldwin Ave., Paia, Maui, (808) 579-3354, nylosmaui.com.