Maui's "Whale Tales" celebrates humpback-watching season, spotlights latest research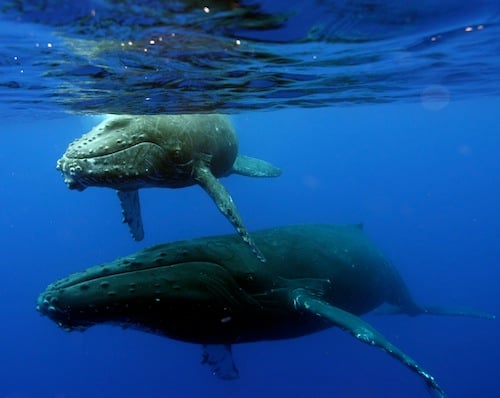 Scientists estimate that there are 20,000 humpback whales in the North Pacific. An estimated 12,000 swim to Hawaii's waters each year to mate and nurse their young, typically between September and March.
With whale-watching season now well under way, it's fairly easy to catch a glimpse of the 45-ton winter visitor from several shorelines in the Islands. Want to learn a bit more about the awe-inspiring humpbacks?
Check out Whale Tales, a three-day event based at the Maui Theatre in Lahaina, featuring free talks given by world-renowned scientists, photographers and filmmakers, guided whale-watching tours and more.
Now in its seventh year, the Whale Tales, which will get under way on Sat., Feb. 16. The event's proceeds will benefit three nonprofits that specialize in humpback whale research off Maui: Whale Trust, Center for Whale Studies, and Hawaii Whale Research Foundation.
In a news release issued by organizers, Whale Trust Maui executive director Meagan Jones said: "As photographers, filmmakers, conservationists and researchers, we travel around the world to learn more about these animals and their ocean environment, but it is on Maui that we come together to share our stories, research, photographs and films at Whale Tales — a free community event."


This year's speakers include leading marine conservationist Richard Ellis; Greg Stone, chief scientist for oceans for Conservation International; Tom Fitz, Emmy award-winning natural history cinematographer; Ford Cochran, director of programming for National Geographic Expeditions. Among local presenters: Ed Lyman from the Hawaiian Islands Humpback Whale National Marine Sanctuary, Mark Ferrari of the Center for Whale Studies, photographer Marty Wolff, and Jim Darling of Whale Trust Maui.
Their presentations will include some of the latest findings about social, behavioral and conservation topics related to whales and their natural environment. Topics include: the mystery of humpback songs, whale disentanglement efforts, the vanishing killer whale population, wildlife filmmaking, whale art and ocean conservation.
Admission to the Maui Theatre presentations is free and registration is not required, although a suggested donation of $20 will be accepted at the door. Whale watching trips are slated for Feb. 16-18. For information about tickets and reservations, call (808) 572-5700.
To see a full schedule of Whale Tales presentations and activities, click here. For more information about the event's host, Whale Trust, click here.