Maui's "Wild Dolphin Days" celebrates law banning display of captive cetaceans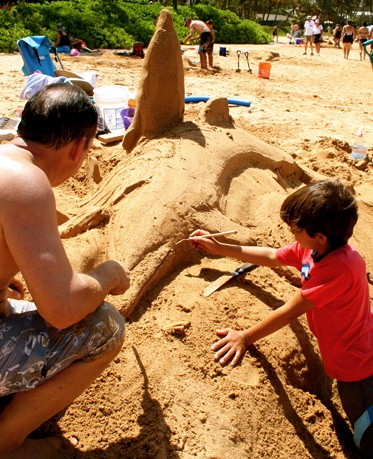 In 2002, Maui County officials passed a law that bans the display of captive cetaceans, including dolphins, which live in the near-shore waters of the county's three islands.
An annual celebration of the mandate, Wild Dolphin Days, is slated for this weekend, Sat., Aug. 13 and Sun., Aug. 14. Festivities, hosted by Maui's Pacific Whale Foundation, include a dolphin-themed sand sculpture contest, a talk about dolphin research and a special cruise to watch wild dolphins with researchers.
Dedicated to protecting whales, dolphins, coral reefs and other ocean life, Pacific Whale Foundation has conducted wild dolphin research off the coasts of Maui and Lanai since 1996, through which it has photo-identified dozens of individual dolphins.
In a press release issued by the nonprofit, Greg Kaufman, president and founder of Pacific Whale Foundation, said: "As part of Wild Dolphin Days, we will be encouraging the public to watch dolphins responsibly." He added, "We will be sharing our 'Be Dolphin Wise' guidelines with the public and the boating community to raise awareness about the need to protect these animals, especially when they come into bays to rest during the day."
The Wild Dolphin Sand Sculpture Contest, open to contestants of all ages and all levels of sand sculpting expertise, will begin at 9 a.m. tomorrow and continue until noon at north end of Keawakapu Beach. Judging will get under way at 11:30 a.m.
Contestants may work individually or as part of a group to create a sand sculpture in honor of wild dolphins. Each participant will get a free dolphin poster and dolphin guide. Some shovels and pails will be provided, but all are urged to bring their own sand art tools. Sculptures will be judged by Maui County Councilmember Don Couch, KAOI radio personality Cindy Paulos and local artist and Maui Time illustrator Guy Junker. During the judging, a Pacific Whale Foundation marine naturalist will offer a short talk about wild dolphins.
The winner for best overall entry by a family or group will receive passes for a family of four for Pacific Whale Foundation's Dolphin Watch Cruise, a three-hour adventure focused on watching the wild dolphins that inhabit Lanai's surrounding coastal waters. Winners in other categories will receive dolphin-themed prizes.
A free talk about dolphin research is set for 6 p.m. to 7:30 p.m. tomorrow at Pacific Whale Foundation's Discovery Center in Wailuku (lower level of the Maalaea Harbor Shops complex). The foundation's chief scientist, Daniela Maldini, along with members of her dolphin research team, will present a slide and video show and share the latest findings about the wild spinner, bottlenose and spotted dolphins found within the waters of Maui County.
Pacific Whale Foundation's studies of wild dolphins in this area, which began in 1996, have since expanded to include toothed whales as well as dolphins.
On Sunday, Pacific Whale Foundation's research team will lead a three-hour dolphin watch cruise, departing at 9 a.m. from Lahaina Harbor. The cruise will visits areas off the coast of Maui and/or Lanai where wild dolphins are most likely to be found. Participants will learn about dolphin research, including the latest findings about these fascinating, social animals.
Cruise tickets cost $39.95 for adults, and $24.95 for children ages 7 to 12. Children ages 6 and under sail for free, when accompanied by one paying adult. There will be a 10 percent discount for anyone who participated in the sand sculpture contest, and Pacific Whale Foundation members will get a 20 percent discount.

 For reservations for this trip or more information about Wild Dolphin Days, call Pacific Whale Foundation at 808-249-8811, ext. 1, or click here.