Mauna Kea Beach Hotel readying for grand-reopening party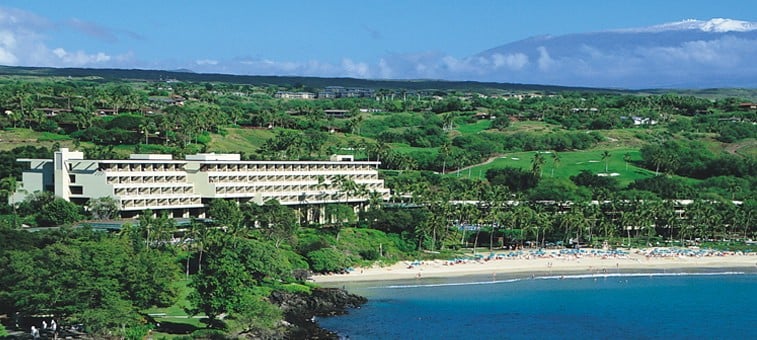 The Royal Hawaiian isn't the only venerable Hawaii hotel property celebrating a grand reopening this month.
A weekend's worth of food and entertainment will welcome back the Big Island of Hawaii's Mauna Kea Beach Hotel on March 26 and 27. The South Kohala coast luxury resort is hosting two separate nights of lavish dinners and concerts.
Patrons on March 26 will be treated to a buffet-style "Cuisines of the World" themed dinner, accompanied by the smooth jazz-fusion of Hiroshima, performing live. On the second evening, veteran Hawaiian contemporary music duo Cecilio & Kapono will take the stage when the hotel throws itself a traditional luau.
Dinner is $150 per person for each night. Tables seating 10 are $1,500.
The Mauna Kea is returning to business in grand style following $150 million in renovations necessitated, in large part, by an October 2006 earthquake off the South Kohala coast. Structural damage and safety concerns prompted the closure of the resort for two years.
Built in 1965 by venture capitalist and financier Laurance Rockefeller, Mauna Kea Beach Hotel was one of the first resorts built on the rugged lava fields of the Big Island's South Kohala coast. It has been a well-recognized landmark on the northwestern side of the Big Island ever since. The American Institute of Architects, in 2007, ranked the resort as one of the 150 best works of architecture nationwide.
The two-year renovation included large- and small-scale changes for the hotel. The overall foundation of the resort's buildings was reinforced. Dated interiors were overhauled with roomier floor plans, a more modern design scheme and modern amenities including flat screen TVs, media hubs and bedside iPod docks. (Click here for a previous post on the Mauna Kea's renovation.)
Though the hotel reopened its doors to the public last December, reopening ceremonies have been delayed until final touches—such as a brand new 4,000 square-foot Mandara Spa, set to open on March 20—were completed.
Special introductory room rates start at $385 a night, and come with a $50 resort credit. A multitude of vacation packages—including super luxe three-night grand opening weekend packages from $3,999 to $6,999—are detailed on the resort's Web site.
For more information on reopening events or room reservations, click here, or call (808) 882-5707.