Mauna Kea Beach Memories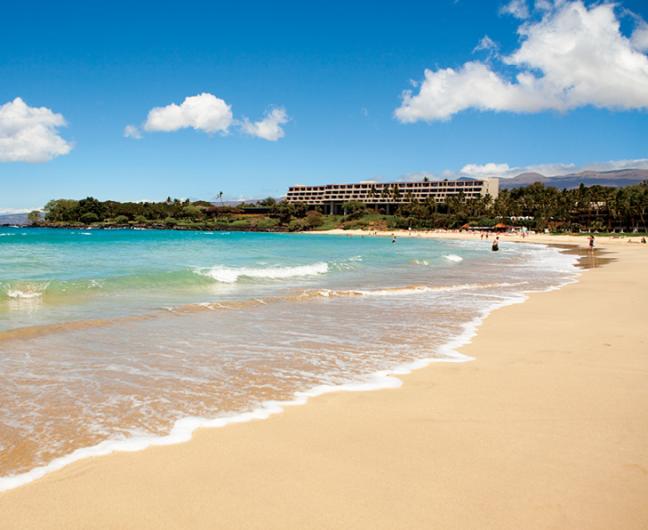 With the South Kohala Coast's first and, arguably, most famous luxury resort celebrating its 50th birthday today, we met up with its longest-serving staffers to talk story about their Mauna Kea Beach Hotel memories and milestones.
The first hotel on the South Kohala Coast and Hawaii's first world-class luxury resort outside of Oahu's Waikiki resort area, its most enduring enticements are still largely those it opened with on July 24, 1965. The expansive white sand crescent and teal waters of Kaunaoa Beach and Bay, one of the coast's most picturesque. The hotel's once revolutionary, now critically praised modern classic architecture, demanded by billionaire businessman, conservationist and first owner Laurance Rockefeller, to blend into the area's natural environment. Its large, luxuriously appointed guest rooms. One of the world's first golf courses constructed on a lava flow. The hotel's enviably relaxing quietude even at full occupancy. But ask many returning guests what they consider the heart of the Mauna Kea Beach Hotel experience, and they'll likely praise the resort's staff—the folks who always remember longtime guests' names, the names of their children and grandchildren, their likes and their dislikes. More than two dozen employees currently on staff have worked at the hotel for more than 40 years. One of them, Donald Case, hired before the hotel's completion as a heavy-equipment operator to work on the construction of the golf course, counts more than 52 years on the job. In anticipation of the grand dame of the South Kohala Coast's gala 50th birthday celebration happening July 21-26, I sat down with five of her longest-working caretakers to talk story about the hotel's history and their lives and times there.
THE LONGTIMERS
(From left to right)
Mary "Swannee" Rillanos, 60, lead bell services expediter. Hired in 1974.
Donald Case, 75, grounds equipment mechanic. Hired in 1962, he is the hotel's longest-serving staffer.
Diane Onodera, 68, reservation agent. Hired in 1968.
Veronica "Dolly" Cooper, 65, in-room dining captain. Hired in 1969.
Alfred "Buzzy" Cazimero, 61, golf shoe service and locker room attendant. Hired in 1974.
KAUNAOA BEACH
Before the hotel was constructed on its north end, the pristine sands and waters of Kaunaoa Beach and Bay were a favorite weekend gathering place for residents of upslope Waimea town and employees of landowner Parker Ranch.
Case: "I lived in Waimea. [Kaunaoa] was our favorite playground before the hotel opened. When the waves were big, we used to stay home from school and go surf. Parker Ranch used to own it, and they used to have a lot of parties and picnics down there. Because it was Parker Ranch, there were a whole lot of steaks. (Laughs.) The parties were for the ranch workers, but they could bring their families."
Cazimero: "We used to go fishing all over the shorelines down this way. And picnicking."
Onodera: "You had to have permission to come to the beach because it was for ranch employees. There was a dirt road to get there from Waimea, where I grew up. There was no highway yet. And it was a beautiful beach. In high school, when I heard they were building the hotel, I thought, 'Why put a hotel there?' I didn't want that. But, after a while, I just accepted it because it was supposed to be good for the island and [provide] employment for people."
FIRST IMPRESSIONS
When the Mauna Kea Beach Hotel opened there were very few hotels like it in the world, much less Hawaii. Its construction totaling more than $15 million, it was one of the costliest hotel projects of its time. On owner Rockefeller's strict orders, its interior was left open to the coast's ample sunlight and salt-kissed tradewinds, and some of its construction used locally procured elements such as lava rock. Rockefeller signed a 99-year lease with Parker Ranch for 1,800 area acres, which he would eventually purchase outright. In addition to well-heeled guests, residents from around Hawaii Island stopped by early on to get a peek.
Cooper: "I came for the grand opening. I remember coming down the road [to the hotel] and making the turn near the [golf course's oceanside] third hole and going, 'Wow, what a beautiful view.' The opening was magical, like I wasn't on the island anymore. It was so beautiful. The ocean. The hotel itself. I'd never thought they could build a hotel on all of the lava rock."
Onodera: "I just loved being in the lobby because of the view of the ocean and its breezeway. For guests to see a beach as soon as they arrived and stepped into the lobby was very unusual at the time."
Case: "I thought it was beautiful. I'd never seen anything like it. When you walked into the lobby and saw the view of the ocean and the beach, it was just amazing."
Rillanos: "All the other hotels I'd been to weren't as open [to the elements] as this one. Working in the dining room I had a beautiful view of the ocean."
Cazimero: "We weren't used to hotels. We'd been used to plantations and ranches. Being a busboy back then, I was outside a lot and could see the beach every day."
Onodera: "To this day, we still have people come here just to check out the architecture.
MR. ROCKEFELLER
From construction of his hotel up until his decision to sell it to United Airlines in 1980, Laurance Rockefeller visited often and became a fairly regular, if remarkably unobtrusive, presence.
Onodera: "[Queen Kaahumanu] Highway, between here and Kona, was built [largely by funding from Rockefeller] because of the hotel. Before it, guests would fly in to Hilo where we had transportation that would pick them up and bring them all the way here. If you wanted to go to Kona from here, you had to travel up the mountain to Waimea, then take the narrow [Mamalahoa] highway."
Cazimero: "In the early years, he came by a lot. He was a natural guy, a really nice guy. He would talk to us a lot and talk with guests. A really good owner."
Case: "I would see him walking around a lot. He brought his children with him, and they would have to do chores."
Rillanos: "Guests were his No. 1 priority. He instilled that in us. There was never a 'no' to them. Whatever the guests want, you give it to them."
Cazimero: "If somebody caught up to him while he was playing golf, he would invite them to tee off first. He was like that with everybody."
Case: "When he visited, [the staff] would kick it up a notch. Everybody would rush around making sure that everything was taken care of."
Rillanos: "He was quiet, but you knew he was present. I remember him walking into the breakfast area. He was very tall in stature, very professional. But he was always very, very nice to his workers. He always said good morning."
CELEBRITY ENCOUNTERS
Its status instantly sealed as a world-class luxury resort, the hotel has attracted countless celebrities over its half-century. Its longest-serving employees, however, remember old Hollywood-era celebrities with the most fondness.
Onodera: "I remember when Jackie Kennedy visited the hotel. She was staying at [Rockefeller's] ranch house in Waimea [but] came here to swim."
Rillanos: "There's too many to count, but one of the best was [author] Danielle Steel. John Ritter was nice. Roger Moore. Ann-Margret even autographed a picture for me. I don't often ask people to do that, but she did. I treasure it at home."
Onodera: "The [celebrity] I loved was Rock Hudson, who came here about two or three times when I was a concierge. I usually try not to bother or ask [celebrities] for anything, but I asked, 'Mr. Hudson, would you mind if I took your picture?' I now have a picture of him out here by the garden. Carol Burnett would sit in our [former] guest lounge with her husband and one of her daughters. I got one of the Three Stooges' autographs, Larry. I asked Paul Anka for an autograph, but I didn't ask him to sing "Diana" for me."
Cazimero: "Michael Jordan. Charles Barkley. Terry Bradshaw. Vijay Singh still comes here to practice before major tournaments. When David Robinson came with Jordan and Barkley, he was a nice guy and talked story with us about basketball. They only played [golf] one time, though, and that was it. I think the course was too hard for them."
LONGTIME RETURNING GUESTS
Celebrity sightings are nice. But an even greater joy for many longtime Mauna Kea Beach Hotel staffers is seeing longtime guests return year after year.
Cazimero: "The hotel feels like home to them. They tell us that. They see the longtime workers here, like us, and they feel at home."
Rillanos: "They always appreciate me when I'm here. When they drive up and they see me, they say, 'Oh, you didn't retire yet!' That always makes me feel good."
Cooper: "What's nice is that [we now have multiple] generations of employees and guests that have been here. Parents came first and brought their children. And now their children are here with their own children."
Onodera: "Some returning guests call for reservations and ask for me. I guess it's because they just feel comfortable talking to somebody who has known them all these years."
Rillanos: "For a lot of returning guests, when I know they're coming in I have a little goody bag placed inside their room with macadamia nuts or [made-in-Hilo] One-Ton Chips. When I see things they like, I keep them at home for when they return. I've even made Portuguese bean soup for guests."
RETIREMENT? WHAT RETIREMENT?
A good, secure job that pays the bills, provides medical insurance and puts food on the table were, no surprise, the most common reasons given by the hotel's 40-plus-year staffers for staying on so long. Beyond that, though, holding off retirement is all about the extended Mauna Kea Beach Hotel ohana.
Cazimero: "I enjoy my job. I enjoy the guests. I enjoy the work that I do. Then afterward I can go play golf."
Cooper: "It's the employees. I've made so many friends here. And, thanks to the hotel, which I love dearly, I put my daughter through college, I paid my car loans and I've traveled to Canada, Australia, New Zealand and a lot of the United States."
Rillanos: "This is my second home. The people I work with are like family. They know they can count on me. I've been here 41 years. And I always say, 'I started off in diapers and I'm leaving in Depends.'"
Case: "I like the wind over here. It keeps the place fresh. I get to see the ocean, my favorite place for fishing. I get to see the Kohala mountains, where I do my hunting. It's hard work, but I like it. I'm one of those guys who wasn't born with a silver spoon in my mouth, I was born with a shovel in my hands."
Onodera: "Like Swannee, this is like my second home. This is where I made lifelong friends. Coming to work to see them is like being home when family comes to visit. It's routine. But I love the routine. And I just love this property. I love seeing our guests and waiting for them to come back. I want to be here when they come back. I don't think of coming to work as 'Do I have to go back?' I want to come back. I like getting up in the morning and thinking, 'Who am I going to see today?'"