May Day is Lei Day in Hawaii. Here's where to go for celebrations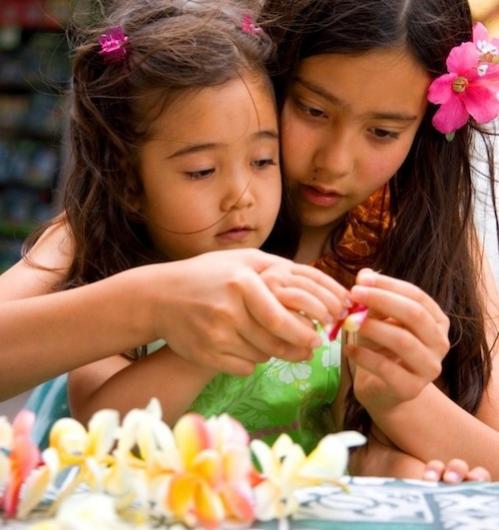 Tomorrow is May Day, also known in the Islands as Lei Day — a day dedicated to celebrating Hawaiian culture. If you attend a Lei Day event here, you'll see our fragrant symbol of aloha draped over many sets of shoulders.
One of the largest gatherings will be the 85th annual Lei Day Celebration, Honolulu's official city festivities, held at Waikiki's Kapiolani Park Bandstand, 9 a.m. to 5:30 p.m. It's free and open to the public. The musical lineup ranges from the Royal Hawaiian Band to a steel guitar concert.
If you go, make sure your camera is ready for the investiture of the 2012 Lei Queen and her court, set for 11 a.m. to 12:30 p.m. Selection of Lei Day royalty is based on lei-making skills, hula, poise and other attributes, according to the pageant's organizers. You'll also want to snap photos of stunning entries in the Lei Contest, which will be displayed from 1 p.m. to 5:30 p.m. For more information about the celebration, organized by the Honolulu Department of Parks and Recreation, click here.
In Waikiki, the Royal Hawaiian Hotel will host Lei of Stars, a musical event, set for tomorrow evening that will honor the 2011 Hawaiian Music Hall of Fame inductees including: Benny Kalama, Alice Namakelua, Sam Li'a, James Pihanui Kuluwaimaka Palea, Akoni Mika, Joseph Ilalaole, and Olomana. For information about tickets for the concert and dinner, click here.
On the Big Island, Lei Day, He Moolelo O Na Lei — a free event in its eighth year — is set for from 10 a.m. to 3 p.m. tomorrow in downtown Hilo at the East Hawaii Cultural Center. Festivities will include lei-making demonstrations as well as Hawaiian music and hula performances. For additional information, click here.
The origins of Hawaii's celebration of May Day as Lei Day date back to 1927, when Honolulu Star-Bulletin writer Don Blanding advocated for the creation of a day dedicated to honoring lei-making and the custom of wearing lei. Blanding's co-worker at the newspaper, columnist Grace Tower Warren, suggested holding the celebration on May 1 and coined the phrase "May Day is Lei Day." Soon after, musician Leonard "Red" Hawk, and his wife Ruth Hawk, penned the tune May Day is Lei Day in Hawaii. The ditty was reportedly first presented as a foxtrot but was rearranged in the late 1920s as a Hawaiian mele for hula.