Mediterranean Poke Recipe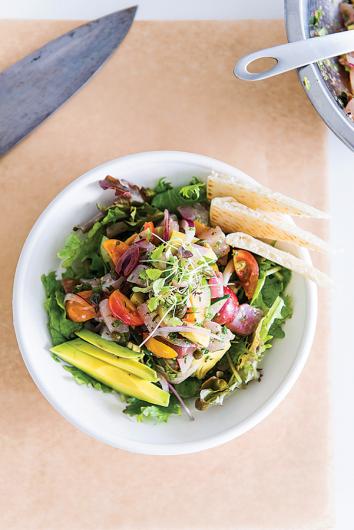 During college, while working her first culinary job as a fishmonger in Oakland, Calif., O'ahu-raised Kimberly Oi, decided to whip up some poke just because she craved it. "I was a little homesick and I was dealing with 'ahi all the time," says Oi, who is sous chef of Lunchbox by Pili Group,. "So I thought, why not just make some and see how it sells?" Soon enough, Oaklanders were calling in to reserve her Saturday poke at $25 a pound. Says Oi, "They would eat it at the counter as soon as I gave it to them." The recipe she shares here was the end result of a kitchen team challenge to come up with a new poke for Lunchbox's weekly Friday poke bowl using end-of-the-week ingredients in the refrigerator. "We nailed it fast! It had all of the flavors of a Mediterranean salad. Just with fish."
​​
Mediterranean Poke
(by Kimberly Oi)
1 lb. fresh shutome (broadbill swordfish), boneless, skinless
1 Tbsp capers
¼ cup kalamata olives
¼ cup feta cheese
1 cup quartered cherry tomatoes
½ cucumber, sliced
Mediterranean Poke Sauce (recipe follows)
reserved herb mix from Mediterranean Poke Sauce
lemon
Clean and cube shutome and set aside in a medium bowl.
Add, to taste, two tablespoons at a time of Mediterranean Poke Sauce to shutome. Toss until shutome is coated thoroughly. Add more salt if needed.
Add remaining ingredients through cucumber to fish mixture. Toss lightly.
Serve over choice of grain or salad, or in a pita. Top with fresh herb mix and a squeeze of fresh lemon.
Mediterranean poke sauce
1 cup grapeseed oil
½ cup basil
½ cup parsley
½ cup mint
½ cup cilantro
3 garlic cloves
¼ tsp chili flakes
¼ cup fresh lemon juice
zest from one lemon
sea salt, to taste
Reserve about a tablespoon each of basil, parsley, mint and cilantro. Blend together all remaining ingredients in a food processor. Mixture should be well-blended, but not liquefied. Large, coarse pieces are OK.
Finely chop reserved herbs and mix together. Use to garnish finished dish.