Meet the Big-Wave Female Surfers Who are Making History
These determined female big-wave riders are still pushing the boundaries of what's possible.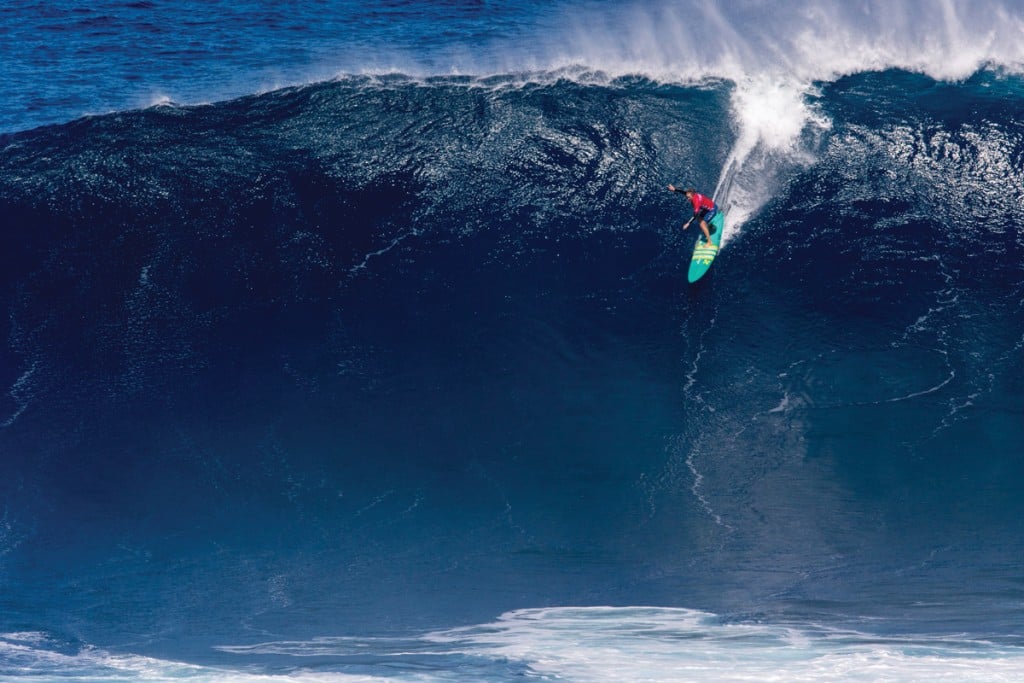 Charging the biggest waves you can find. Knifing the drop on a 30-foot bomb. Hacking and slashing, turning and smacking every wave that comes your way, big or small. That's what it means to be a female surfer.
And through the persistence of these determined female big-wave riders, efforts to change the course of history are charging ahead, creating more opportunities for the future of women in the sport.
For women, this has been a long time coming. Just two years ago, there wasn't a single women's big-wave surf competition. No matter that the women had been surfing 20-foot-plus waves for as long as men had been holding competitions. It seemed that even in the 21st century, big-wave surfer Buzzy Trent's 1963 sentiment still lingered: "One thing I can't stand is girls riding (or attempting to ride) big waves. Why? Well, you see, girls are much more emotional than men and therefore have a greater tendency to panic. Girls are better off and look more feminine riding average size waves."
But then came 2016, marking a watershed moment in women's big-wave surfing. It was a year of firsts: the first women's Peahi Challenge, which ran in 30-foot wind-whipped waves at a spot nicknamed "Jaws" on the north shore of Maui. The first women's heat slated at Mavericks, another of the world's most famous big-wave breaks, in Northern California. The first woman, Keala Kennelly, invited to compete (albeit as an alternate) in The Quiksilver in Memory of Eddie Aikau, casually referred to as The Eddie, the oldest big-wave surf contest at Waimea Bay on the North Shore of Oahu. And then, soon after in 2017, an announcement of the first-ever all-women's stand-alone big-wave contest, the Women's Waimea Bay Championship.
It would be easy to compare the sudden rise of women's events to a long-anticipated swell, but that would diminish the efforts of those who have been anything but passive in their fight for recognition in the big-wave surfing realm. It took Betty Depolito eight years to secure a permit for the Women's Waimea Bay Championship. Twice, she received permits outside of the winter season, when there's little chance for big surf; finally, she went to the mayor's office, pointed out the lack of women's contests among surf competitions in general, and made her case for a sister to The Eddie. She got the permit in 2017 and raised $10,000 in prize money. (The goal was at least $30,000; the last winner of The Eddie was awarded $75,000.) She hoped for 24 competitors; 32 asked to sign up. In the end, a sizeable swell never materialized, but such is the nature of these events: More than most other sports, they are at the whim of, well, nature (and financial and permitting woes, which prevented the Mavericks contest and The Eddie from running in the 2016-17 season).
Depolito knows how to fight for and organize women's surf competitions because she's done it all before. She was one of the six California Golden Girls in the '70s and '80s—surfers who won international contests and marketed their alluring mix of beauty and athleticism to "get the word out about women's surfing," Depolito says. "I really wanted surfing to be a job, I wanted to be a professional athlete. But there wasn't much coverage; surfing magazines didn't cover women so we had to do it ourselves." She moved to Oahu in 1978 and began charging Waimea Bay and big days at Sunset Beach; in 1980, she organized the first women's bodyboarding contest at Pipeline, the first surfing event of any sort for women at the famous break. In addition to events, she produces "FLHI Girlz," a TV series showcasing women's surf and sports on Hawaii channel OC16.
But despite the California Golden Girls' efforts and those of the women who came after, it still hasn't gotten much easier to make a living off of big-wave surfing. Paige Alms, a 29-year-old Maui surfer who won the Peahi Challenge in its inaugural year, and then the year after that, was awarded $10,000 that first year; the male winner took home $25,000. And Alms still works at Paia Fish Market to supplement her income. Clearly, those looking for more money for less risk don't find their way to big-wave surfing. The 2016 Peahi Challenge sent two women to the hospital with torn ligaments in their knees. And Alms is still suffering from a shoulder injury from four years ago, when she made it all the way down a 20-foot wave face in Mexico only to have the lip of the wave crash on top of her, crushing her and dislocating and fracturing her shoulder. "The impact just kind of blew my body apart," she says. She likens the feeling of tons of water dropping from 20 feet on top of her to a car accident, "except that your entire body is flipping and turning and twisting—it's not sitting in a small, confined space that has protection around it. It's really violent and the ocean is so powerful."
But watch Alms on her second wave of the finals in the 2016 Peahi Challenge, and you get a sense of why she takes the risk. She paddles just ahead of a hurling, massive wave. She springs to her feet at the top, her body and board almost vertical, and she's airborne. The howling wind lifts her board and, for half a second, considers what to do with her—until she takes control, digs the fins into the face, and sweeps down three stories, outrunning the avalanche of water exploding behind her. It all happens in about five seconds. She skids into the deep channel, where it's calmer, and pauses for a few moments. In the seconds before, there is no time for thought, only the instinct she's developed after surfing this wave for five years. And in the moments after, it's as if she's letting her emotions catch up to her: the rush of the drop, the awe of the ocean, the pride at doing what few will attempt.
"We're still pushing the boundaries of what's possible riding big waves, [in terms of] positioning, speed, technicality," Alms says. "Every single session, the progression is being pushed." Seeking the edges of our limits also means frequently facing down fear. "For people to say they're not scared to sit under the lip [of a big wave] and take off and airdrop, they're lying." But in the moment, she says she "embraces that fear … and calms down—you just know and trust in the ability and preparation that you put into it. The scary moments in the big waves are definitely overpowered by the highs you get when you ride the big waves."
As paradoxical as it seems when describing a sport where the goal is to make it down 30-foot (or bigger) wave faces, ahead of a tumbling mass of water that has the force to snap boards, tear limbs from sockets and pin you beneath the surface, there is caution in big-wave riding. The caution comes in preparation, in training. Big-wave surfers upend the traditional carefree and undisciplined surfer stereotype. They hone themselves like endurance athletes. Alms trains up to six days a week, working on strength and balance, and she runs rocks underwater to build her lung capacity.
Makani Adric, at 22, is one of the younger invitees to the Women's Waimea Bay Championship. Growing up on the North Shore of Oahu, she picked up surfing when she was 7, around the same time she started training in jiujitsu. For Adric, the two complement each other: in strength and endurance building as well as the focus on breath control and relaxing under pressure. In jiujitsu, the latter two make better fighters; in big-wave surfing, they can mean survival. And yet, "both of them bring me to a calming, peaceful state of mind," Adric says. It sounds absurd that what would rouse fear in most people calms her, and Adric, at a petite 5 foot 1 inch, looks even smaller as she plows down monstrous waves, goofy foot no less. That means her left foot rests on the back of her surfboard, which adds an extra layer of challenge at waves such as Peahi which favors regular-foot surfers. She rode her first big wave at Waimea Bay when she was 16. Nervousness and adrenaline rushed through her as she paddled out, but when she took off on a 24-foot wave face, "instantly, it was comforting," she says, like she had been surfing that wave for her entire existence. "From that day, I knew I wanted to surf Waimea Bay, that this was something I wanted in my life."
For these surfers, successfully pushing their limits builds confidence in what they do. So does seeing other women go big. Which is why Alms, along with three other big wave surfers, Keala Kennelly, Andrea Moller and Bianca Valenti, formed the Committee for Equity in Women's Surfing in 2016 to force the 19-year-old Mavericks big-wave surf competition to allow women. In the face of negative press and political pressure, Mavericks contest organizers begrudgingly slotted one heat for women. The 2016-17 Mavericks contest didn't run, but the 2018 event is slated to include a women's heat.
"Definitely, there's been a few more girls getting into [big-wave surfing]," says Alms. "And to go from having absolutely no events to having the first-ever Jaws event, and going into this winter we have the possibility of four events, it's pretty cool to be at the forefront of that, alongside my friends, pushing the sport to new places. To continue what I'm doing now, just living the dream, paving the pathway for the next generation, that's what my focus is. For sure, I have personal goals of the types of waves I want to ride, but more than anything, I want … the girls growing up now, who want to do this as a living, to have no problem doing it."