Mele Kalikimaka from HAWAII Magazine's staff ohana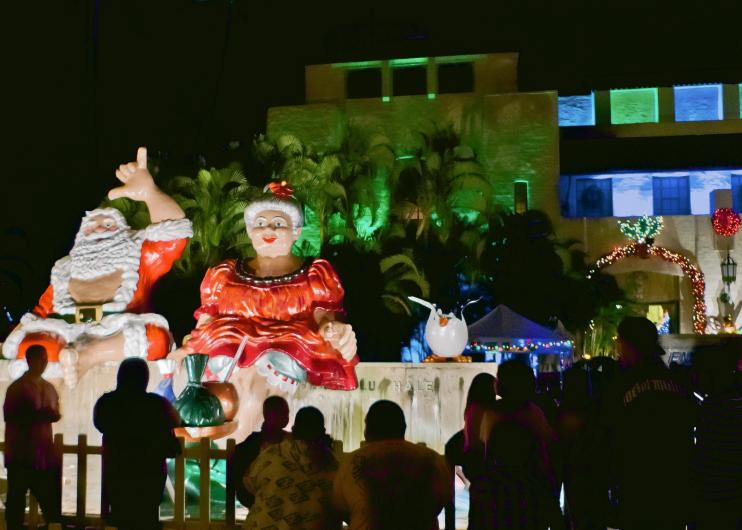 From: HAWAII Magazine's staff ohana
To: our HAWAII Magazine & HawaiiMagazine.com
reader ohana
A very Mele Kalikimaka (Merry Christmas) to you and all the best in the new year. Hauoli Makahiki Hou (Happy New Year)!
By the way, if you happen to be on Oahu this week or next, the 27th annual Honolulu City Lights will be glowing every evening until Jan. 1. (Tonight only: event organizers will be serving up free cups of hot chocolate in the flagpole area at the Fasi Memorial Buildings.)
The Mele Kalikimaka scene, which got under way earlier this month, features larger-than-life holiday displays, such as a 21-foot shaka-flashing Santa seated next to a lei-draped Tutu Mele (pictured, at top of page) at a fountain pool fronting Honolulu Hale (Oahu's city hall). There's also an elaborately decorated 50-foot Norfolk Christmas tree (pictured, below). Inside historic Honolulu Hale (constructed in 1928), you'll find a lineup of Christmas trees, each cleverly decorated by personnel in government offices and other volunteers. Also, there may be a may be a line to visit a jolly old elf seated in a gingerbread hale (pictured, above). If you go, have fun — and bring a camera.
This year's City Lights theme is "Holoholo Holiday," which translates as "just for fun." For more information about Honolulu City Lights and related special events, click here.