Merrie Monarch Festival co-founder, kumu hula George Naope dies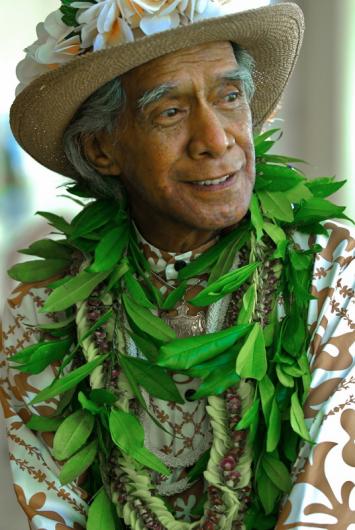 George Lanakilakekiahialii Naope, one of hula's most revered kumu hula and co-founder of the Merrie Monarch Festival, passed away today at his residence in Hilo after a long battle with cancer. He was 81.
Naope, who is credited with reviving the art of male hula, co-founded the Merrie Monarch Festival in 1963 with Dorothy "Auntie Dottie" Thompson. Merrie Monarch is hula's premier event; an annual, by-invitation-only competition attracting hula halau (hula groups) from Hawaii, the Mainland U.S. and worldwide. The festival's home for much of its nearly half-century existence has been the Edith Kanakaole Tennis Stadium in Naope's hometown of Hilo.
Naope was easy to spot in the festival crowd or anywhere else. He often dressed in bright colors and sported his signature straw hat, which was usually adorned with flower lei. Though larger than life to many kumu hula (hula teachers) and their students, Naope was always approachable.
He would enjoy much of Merrie Monarch from the comforts of a peacock-fan wicker chair, but often couldn't resist taking the stage to dance hula during the festival's finale. Naope was spotted in a wheelchair at this year's Merrie Monarch Festival in April, but even that couldn't interfere with his enjoyment of the competition.
Naope lived and breathed hula. He opened his own hula school after graduating from high school and often traveled around the world to promote the art of hula. Naope didn't start enjoying hula until he was about 15 years old, an age when he said he was "a little older and little wiser." As an adult, he was an inspiration and role model to countless hula students in Hawaii, Japan, Europe and Australia. In addition to being a kumu hula, Naope was a master Hawaiian chanter and the founder of the Humu Mo'olelo, a quarterly journal of the hula arts.
Naope received numerous awards in his lifetime, including the National Heritage Fellowship Award from the National Endowment for the Arts in 2006. Hula festivals were also named in his honor, including the George Naope Northwest Hula Invitational in Seattle, Wash., and the George Naope Kane Hula Festival in Modesto, Calif.—the latter, the first male-only hula competition. The George Naope Keiki Hula Festival was established in Modesto in 2008 and named in his honor. It is promoted as "the only keiki hula competition on the Mainland."
Memorial services for Naope are tentatively scheduled for Nov. 6 and 7 at Hilo's Afook-Chinen Civic Auditorium, located just next door to the Edith Kanakaole Tennis Stadium.
The next Merrie Monarch Festival is scheduled for April 4 to 10, 2010.
Rest in peace, Uncle George. The world of hula won't be the same without you.