Merrie Monarch Festival prepping to stage prestigious hula competition on Big Island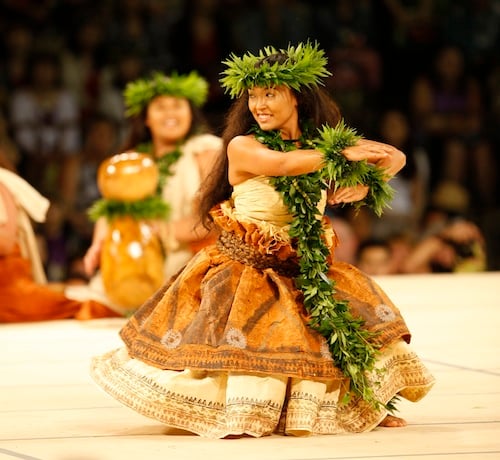 Now in fiftieth year, the venerable Merrie Monarch Festival, which will get under way on Sun., March 31 and wrap up on Sat., April 6, features world-class hula competition, exhibitions, musical entertainment, arts-and-craft fairs, and the annual Royal Parade through downtown Hilo. The weeklong event honors the legacy of King David Kalakaua, who was called the "Merrie Monarch" for his love of the arts, especially music and dance.
The hula competition, which was introduced in 1971, spotlights kahiko (ancient) and 'auana (modern) hula as well as oli (traditional chanting). Despite the festival's devotion to dance, hula competitions were not a part of the inaugural event. In 1963, highlights ranged from campy, with King Kalakaua beard look-alike contest, to commemorative, with a re-creation ceremony enacting the monarch's coronation.
In the years that followed, organizers endeavored to step up the pageantry by replicating a bit of King Kalakaua's 50th birthday celebration in 1886, also known as the "Silver Jubilee," during which Hawai'i's top-notch 'olapa (dancers) and ho'opa'a (chanters) performed. Since then, as the event has continued to attract dedicated and talented hula performers and instructors, it has developed a reputation in the hula community as a premier festival.
For additional information about the Merrie Monarch Fest, click here. Click here for details about television broadcasts and live-streaming video of the competitions.