"Mighty Mo" hosts free screening of Hawaii-filmed "Battleship" action/sci-fi movie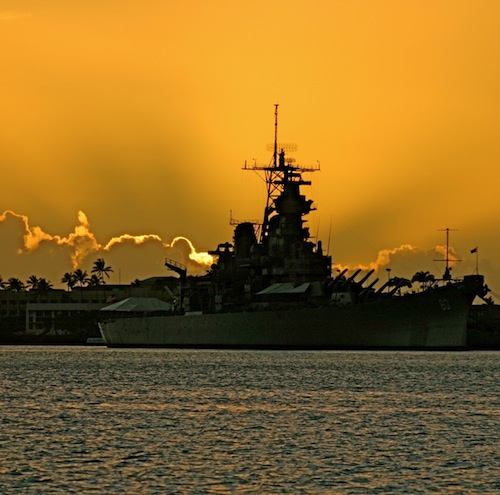 Hawaii-filmed Battleship, an action-adventure/science-fiction movie that made its box-office debut earlier this year, will have its DVD/Blu-ray/digital download or "home release" tomorrow. To mark the occasion, a free screening will be held at the Battleship Missouri Memorial — the very ship that stars in the movie.
In addition to the 45,000-ton ship, the movie stars Liam Neeson, Taylor Kitsch, Brooklyn Decker and Rihanna.
The screening of the Universal Pictures movie is set for 7 p.m. tomorrow (Aug. 28) at the memorial on Ford Island in Oahu's Pearl Harbor, with complimentary shuttle service available from the Pearl Harbor Visitor Center (starting at 5:30). Reservations are required — RSVP to USS Missouri.org/MoMovies.
Refreshments and Battleship merchandise will be for sale. Attendees are invited to arrive early to learn more about the historic battleship, known as the "Mighty Mo."
This weekend, the memorial will host another event — the annual commemoration of the end of World War II. On Sept. 2, 1945, Supreme Allied Commander Gen. Douglas MacArthur and representatives from 10 nations assembled on the USS Missouri in Tokyo Bay to accept Imperial Japan's formal, unconditional surrender.

The formal surrender aboard the USS Missouri followed V-E Day (Victory in Europe Day), May 8, 1945, when German troops laid down their arms after Germany surrendered to Allied Nations. Japan announced its surrender on Aug. 15 (Japan time) and formalized the agreement on Sept. 2 aboard the ship, thereby finalizing the Allies' victory over Axis Powers.

The memorial— now located a ship's length from the USS Arizona Memorial in Pearl Harbor —will mark the 67th anniversary of the end of World War II in the Pacific with a free ceremony set to begin at 8 a.m. on Sun., Sept. 2. The keynote speaker will be James Zoble, senior archivist for the MacArthur Memorial in Norfolk, Va. The anniversary event is free but reservations are encouraged, as space is limited. To RSVP online, click here.