Miss Aloha Hula crowned at Merrie Monarch Festival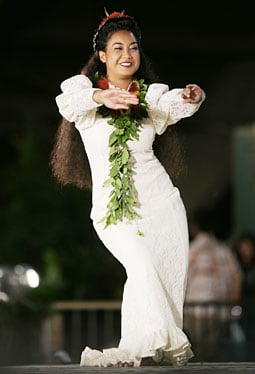 Congratulations to Kalimakuhilani Akemi Kalamanamana Suganuma!
Kalima to her friends, we're guessing.
Suganuma won the 2008 Miss Aloha Hula title at yesterday's opening evening of Merrie Monarch Festival competition on the Big Island.
In a tiebreaker.
Two dances were required of competitors last night—a hula auana, or modern dance; and a hula kahiko, or traditional dance.
Oahu resident Suganuma danced the final performance of the evening, matching dancer Kapalaiula de Silva in judges' scores. The judges reconvened, applied some complex Merrie Monarch math and declared Suganuma the winner.
Suganuma also won $1,000 for her Hawaiian language skills, demonstrated by her chanting. But the big prize is simply the honor of the Miss Aloha Hula title.
Click here to see Suganuma's auana dance to Hawaiian songwriter Mary Kawena Pukui's "Kilauea." (You may need to download a free Microsoft media player first.)
The festival continues in Hilo tonight with group competition in hula kahiko. It will be broadcast live in Hawaii on KITV Channel 4. But you can also catch competition streamed live on KITV.com beginning at 6 p.m. Hawaii time (midnight on the East Coast, 9 p.m. on the West Coast).
The Merrie Monarch Festival concludes Saturday night at 5:30 p.m. (Hawaii time) with hula halau (or troupes) performing hula auana, followed by the fest's awards ceremony.
Did anybody out there stay up late last night (or wake up early this morning) to watch the competition on the Web?