Mission Accomplished: A Visit to Waioli Mission House on Kauai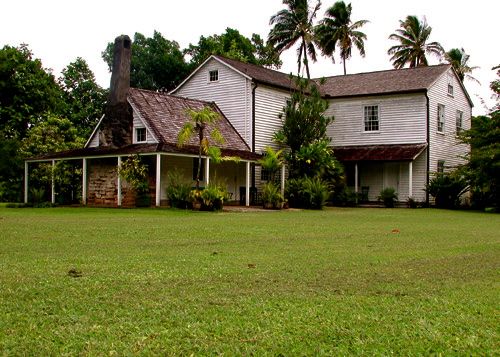 In the hours following Hurricane Iniki's devastating march across the island of Kauai in September 1992, the only visible damage to Hanalei's historic Waioli Mission House seemed to be three broken glass window panes. Closer examination revealed that a far more ominous outcome had been narrowly dodged.
Iniki—to this day, one of the most powerful hurricanes to directly strike one of the main Hawaiian Islands—had caused numerous hairline stress fractures to the structure. Only two things had saved the then 155-year-old mission house from complete destruction: Iniki's relatively quick pass over Kauai, which saved the house from the storm's sustained 145 mile-per-hour winds; and the home's heavy timber frame and clapboard siding, which miraculously absorbed most of the hurricane's force. The historical treasures in the home's interiors were also unharmed.
More than $800,000 in repairs and new landscaping eventually restored Waioli Mission House, which, since 1919, has served as a museum honoring three of Kauai's early missionary families. On a 45-minute guided tour of the venerable structure, visitors learn about the storied home and its former occupants, as well as its furnishings and grounds. Barbara Kennedy and her husband, Roger, have served as Waioli Mission House's caretakers and docents since May 1998, six years after 'Iniki.
"A family member, who was on the museum's board at the time, asked us to apply for the positions," says Barbara. "We were longtime residents and businesspeople in Hanalei, but we had never worked for a nonprofit organization before. We looked at each other and asked: Why not? What a blessing that decision turned out to be!"
In 1834, Rev. William Patterson Alexander and his wife, Mary Ann, arrived in remote Hanalei on Kauai's north shore to establish a mission, church and school, and to oversee the construction of a residence for themselves. Completed in April 1837, the Alexanders' two-story, four-room residence was one of the first Western-style houses built on the island. The Alexanders led the Hanalei parish until December 1842, with George and Malvina Rowell following from 1843 to 1846, and Abner and Lucy Wilcox from 1846 to 1869.
Waioli means "joyful water," a likely reference to Hanalei's frequent rains. On an overcast day soon after the Kennedys were hired as caretakers, Barbara was strolling the mission house's grounds when the clouds suddenly parted and the sun illuminated waterfalls cascading down the majestic slopes of nearby Namolokama mountain.
"It was such a spectacular sight, I started to cry," Barbara recalls. "Roger and I are history lovers. We sat in the house and spent years reading all the books in the (home's) collection. Never in our lives did we think we'd have a job that would enable us to learn not only about missionary history, but the history and culture of the people who walked this land long before Captain Cook arrived (in the Islands). Even better, we have the opportunity to share the knowledge we've gained. It's a privilege we've never taken for granted."
Waioli Mission House was included on the National Register of Historic Places in 1972. Most of the artifacts displayed for visitors touring the house belonged to the Wilcox family. The treasures include Lucy's sewing basket and coal-heated iron, Abner's framed certificate from the American Board of Commissioners for Foreign Missions and a trunk that traveled around Cape Horn with them in 1837. Other notable original artifacts include sandalwood canes, a koa settee, a pewter whale oil lamp and a 12-sided rosewood veneer table.
Avid readers, Abner and Lucy maintained a library of more than 200 books, some of which are neatly arranged on a koa wood bookcase that was in the house when they arrived. During the tour, Barbara Kennedy points out Abner's Bible, published around 1806, and willed to him by his favorite aunt.
A bedroom in Waioli Mission House, with original furnishings. Photo: Waioli Mission House.
The rosewood melodeon in the parlor was given to the second of Abner and Lucy's eight sons, George, by a family friend from Abner's Harwinton, Conn., hometown. Near that melodeon stands the Wilcoxes' original rosewood melodeon—albeit in a form far different from its original. In 1921, when the Wilcoxes' granddaughters found the musical instrument in termite-ridden pieces, they shipped it to San Francisco to be salvaged and crafted into a small desk.
Abner and Lucy's third son, Edward, a skilled carpenter, built his second-story bedroom in 1859 and 1860 during summer breaks from Oahu's Punahou School, when he was 17 and 18 years old. The bedroom stop on the tour is where Barbara discusses the many contributions the Wilcox family eventually made to Hawaii.
She notes that Abner taught bright students from Kauai and neighboring island Niihau at his own expense for years. When federal funds ran out for the construction of Lihue's Nawiliwili Harbor, George Wilcox donated the balance of the money needed to finish the project. Fourth Wilcox son, Albert, and his wife, Emma, built Kauikeolani Children's Hospital on Oahu, now known as Kapiolani Medical Center for Women and Children. Granddaughters Elsie and Mabel Wilcox and Etta Wilcox Sloggett worked tirelessly on historical preservation projects.
"They served unselfishly and gave generously," Kennedy says. "We call it today as it was called in their time—aloha."