Modern Hawaii music takes center stage at new Honolulu Museum of Art concert series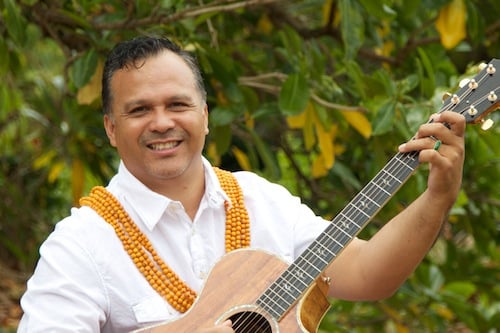 The Honolulu Museum of Art seems to have more live music than ever radiating from its Beretania Street location these days. And starting in August, there will be even more.
On Aug. 21, the museum kicks off "Music of Hawaii," a third monthly concert series to accompany its "Secret Sound Showcase" alternative music and "Last Saturday Roots" jazz concerts. The inaugural "Music of Hawaii" concert at the museum's intimate, 280-seat Doris Duke Theatre will feature traditional Hawaiian vocalist/musician Weldon Kekauoha (right).
Concerts in the new series are set for the third Wednesday of each month.
"The goal is to have consistency," says Lesa Griffith, director of communications at the museum. "We want people to know that every last Friday, they can hear an alt music concert, every last Saturday is jazz, and every third Wednesday is Hawaiian music. We want it so people don't even need a schedule. If they like jazz, then last Saturday is their day."


Longtime Hawaii concert promoter and artist manager Brandon Apeles, who joined the museum as music programmer in April, has organized the first six months of "Music of Hawaii" performances. The line-up will feature award-winning Island musicians and a gamut of styles and genres, showcasing the diversity of modern Hawaiian music. In addition to Kekauoha, performers in the months ahead will include living slack-key legend Dennis Kamakahi, the reggae-inflected pop of Mike Love and Paula Fuga, the perfect-pitch leo kiekie (falsetto) of Arkansas-born African-American Kamakakehau Fernandez, and the Hawaiian traditional and contemporary music blend of vocalist/composer/musician Nathan Aweau.
"One criteria is they need to be having an impact on the Hawaiian music scene," Griffith says. "They were also chosen to illustrate the breadth of Hawaiian music today."
With this series, the Doris Duke Theatre will offer reserved seating. Ticket prices are $25 for open seating and $45 for VIP reserved seating, with discounts for museum members. Concerts begin at 7:30 p.m.
The "Music of Hawaii" concert series schedule will be:
• Aug. 21: Weldon Kekauoha
• Sept. 18: Nathan Aweau
• Oct. 16: Shawn Livingston Moseley (left), with special guests Stephen Inglis and Erika Elona
• Nov. 20: Dennis Kamakahi
• Dec. 18: Mike Love + Paula Fuga
• Jan. 15, 2014: Kamakakehau Fernandez
Concerts in the "Secret Sound Showcase" series happen on the last Fridays of every month. "Last Saturday Roots" concerts are schedule on the last Saturdays of the month.
"Music of Hawaii" at the Honolulu Museum of Art. For more information call (808) 532-8701 or visit www.honolulumuseum.org.