Molokai Hoe island-to-island outrigger canoe race happens Sunday. Watch it live online.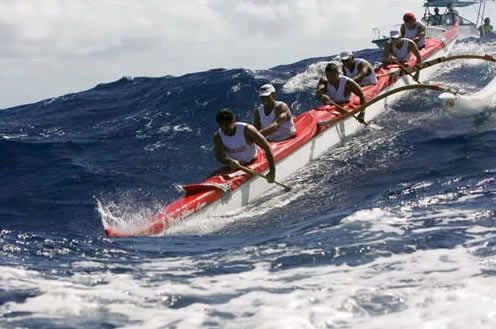 For the past six decades, paddlers have annually challenged the unpredictable and often-treacherous waters of the Kaiwi Channel, which separates Molokai and Oahu, to compete in the Molokai Hoe Molokai-to-Oahu outrigger canoe race, considered the world championship of outrigger canoe paddling for men.
Hoe is pronounced "ho-eh," without a glottal stop. It's the Hawaiian word for "paddle," or "the act of paddling."
The Molokai Hoe attracts teams from Hawaii and around the world—more than 1,000 paddlers in all—taking their single-hulled canoes on the 41-mile journey across one of the most challenging sea passages in the Islands. Tradewinds can be too light or too intense. Currents can easily sweep the canoes far off course. Swells as high as 10 feet can swamp or capsize canoes.
The race starts at Hale o Lono Harbor in west Molokai and ends on Oahu at Waikiki's Fort DeRussy Beach, where hundreds of spectators gather at the finish line. Can't be at finish line in person? No worries. The best view of the entire race might actually be online.
2012 Molokai Hoe winners,Tahiti-based Shell Vaa, in competition.
This year's Molokai Hoe will be broadcast live online by Ocean Paddler TV, Sunday, Oct. 13, beginning at 7:50 a.m. (Hawaii time) on Livestream by clicking here. If you're in the Islands, you'll also be able to catch the six-hour live broadcast on Oceanic Time Warner Cable's OC 16 (channels 12 and 1012).
Live video feeds from the event will be captured for the live stream from boats and helicopters, with the entire broadcast hosted by Guy Hagi, Hawaii News Now weather anchor and avid surfer; Lauren Spalding, world champion paddler; and Kalai Miller, Ocean Paddler TV's host and avid paddler.
If you're on Molokai, you can watch the teams leave Hale O Lono Harbor at 8 a.m. By late morning, folks on Oahu's south shore will begin noticing the first canoes move past Hanauma Bay, Diamond Head and Waikiki before landing at Ft. DeRussy Beach next door to the Hilton Hawaiian Village.
Molokai Hoe outrigger canoes leave Hale O Lono Harbor on Molokai.
The Molokai Hoe's first contest happened in October 1952, with just three koa wood outrigger canoes launched through surf at Kawakiu Bay on Molokai's west side bound for Oahu, each powered by six paddlers on what was then a 38-mile course. Eight hours and 55 minute later, a Molokai-based paddling team and their outrigger, Kukui O Lanikaula, reached the beach at Waikiki fronting the Sheraton Moana Surfrider Hotel.
The Molokai Hoe has become one of the longest running annual team sporting events in Hawaii and perpetuates one of Hawaii's most important cultural traditions.
For more information about Molokai Hoe, click here.