Moving scenes from the 2017 Lantern Floating Hawaii
The beautiful Hawaii Memorial Day tradition, hosted by Shinnyo-en, brought out huge crowds to remember their lost loved ones.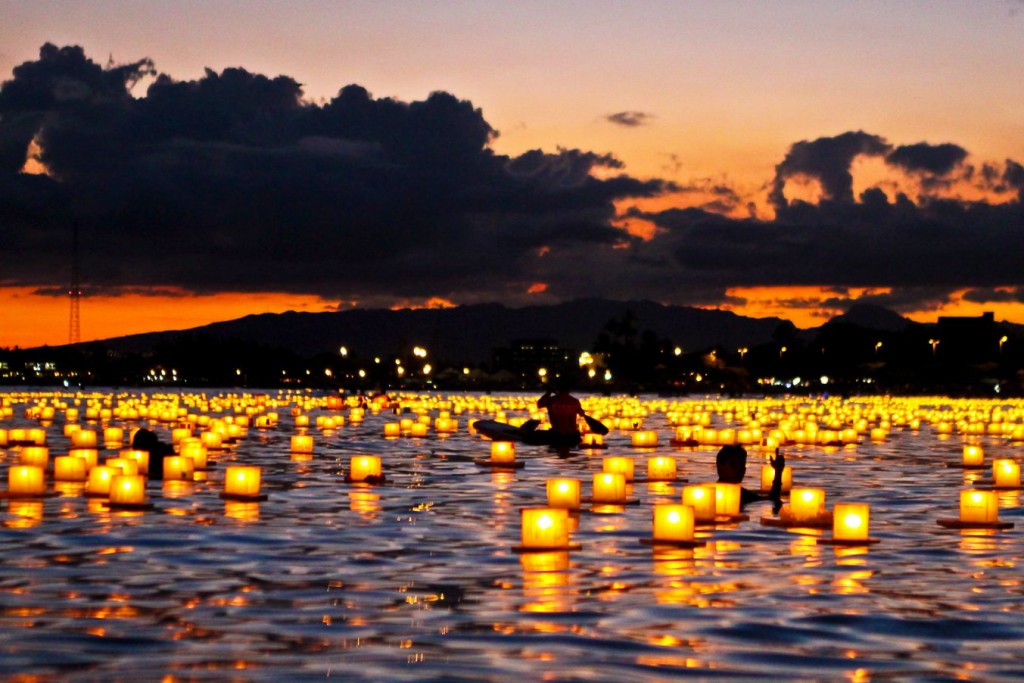 Each year on Memorial Day, an estimated 45,000 to 50,000 people from all over the globe gather on the shores of Honolulu's Ala Moana Beach Park and Magic Island to take part in a breathtakingly beautiful memorial ceremony hosted by Shinnyo-en, an international Buddhist community.
This year, over 7,000 lanterns, inscribed with notes to lost family and friends, were released with hopes, prayers and love into the gentle waters of the bay at sunset. It's an emotional ceremony, with lots of tears, that brings out the best in strangers who comfort each other, and families who gather in honor of their loved ones to eat, tell stories and remember. Here are a few moments from this year's Lantern Floating Hawaii.
At the start of the ceremony, people gathered along the shore in unity.
Many are families who make it an annual tradition.

The participating attendees inscribe a personal message on each lantern.
Up on stage, the taiko drummers open the ceremonies, offering up their rhythms as a prayer for peace.
It's not uncommon for each drummer to dedicate their performance to a loved one.
Attendees include those of every race and creed, from all over the world.
The Aikau family, of whom esteemed Hawaii waterman Eddie Aikau (where the phrase "Eddie would go" came from) is perhaps the most famous member, waits to float their lanterns.
"A lot of the volunteers in the water today, the lifeguards and paddlers, are our family," says Aunty Myra Aikau (second from right).
Others on shore are quiet, caught up in their own memories.
A fiery sunset lights up the sky.

Her Holiness Shinso Ito rings the bell and the crystal-clear sound lets everyone know that it's time to float their lanterns.
People start heading into the water.
And it's time to let the lanterns go.
The first lanterns drift away from shore.
Tracey Vest and her little girl are here to float a lantern in honor of her grandfather.
"In 2013, my husband's father passed away suddenly while my husband was deployed in Afghanistan," she says. "My grandfather was a World War II veteran and helped raised me. Being both a military member and spouse, the loss of a loved one in any respect can take a toll on your life. With each passing day, we miss our loved ones, but continue to move forward, knowing they help paved the way to a better future."
Tracey's lantern. One side is devoted to her father, one to her grandfather and one to the "unknown soldier."
A total of 7,000 lanterns float away from the shore.
This lantern reads: "Family promise wants to remember Shanda, a wonderful mother who passed away recently. May her love and kindness always be remembered. Rest in peace."
Out in the water, volunteers gently and respectfully help the lanterns on their way.
"That's my sister," says one little girl, pushing two lanterns out in water almost over her head.
As the sky darkens, lanterns light up the bay.
Each lantern is made earlier in the spring by Shinnyo practitioners, individual volunteers and groups from schools, businesses and organizations. After every ceremony, all the lanterns are respectfully collected, cleaned and repurposed for the following year. The ceremony is not for profit, and lanterns or souvenirs are not available for purchase.
---
For more information about Shinnyo-en and the lantern floating ceremony, visit lanternfloatinghawaii.com.