Music Review: "Sleep Through the Static" by Jack Johnson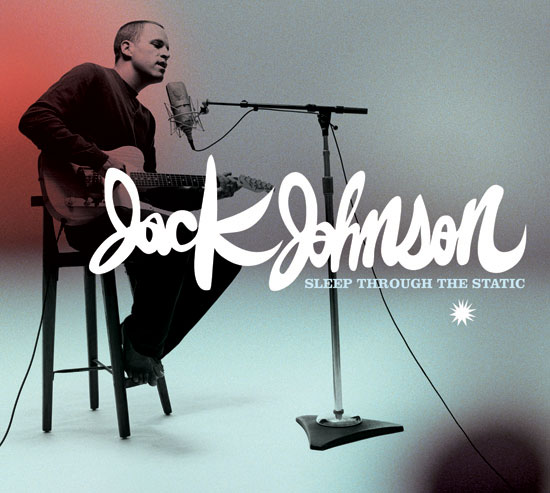 Jack Johnson's fifth CD, Sleep Through the Static, goes on sale Tuesday.

It's another disc of the characteristic spare, acoustic-surf-folk fare that has endeared the North Shore of Oahu native to millions. But the usual sweet real-world love songs and kicky blues-funky backyard jams have been partially replaced by darker songs with messages—the death of a loved one and living in a world at war.

The opening cuts bring a somber mood. In "All at Once," the CD's opener, Johnson discusses giving in to "the feeling that we have no control," feels there's "still hope between the dreams," but ultimately concedes that "sometimes it feels like the heart is no place to be singing from at all."

"Hope" is about the importance of having family near in dark times.

The change in subject matter is a logical move for the 32-year-old Johnson—always a deep-thinker in interviews, and now a father of two young sons. His drive to show off his obviously well-read smarts comes off clunky at times—"They Do, They Don't" and "Monsoon" contain a few regrettable lyric choices. But Johnson's ambition on Sleep Through the Static mostly serves him well. "All at Once" ranks among his best songs, without sounding like anything Johnson has done before it.

Other tracks, however, will sound familiar. "Angel," "Same Girl" and "Go On" are the kind of heart-on-sleeve ballads that Johnson excels at and his fans love. These, and the pop jam confections "If I Had Eyes" and "What You Thought You Need"—both full of punchy electric guitar, driving drum and bass rhythms and piano—bring Sleep Through the Static back to the roots-diggin' Jack fans are used to.

Johnson's tentative detour to gloomier topics on Sleep does him good.

It probably won't wind up his biggest-selling CD—2005's two-million-plus-selling In Between Dreams will have to hold that record a bit longer. But Johnson has moved his music career forward with a mature, intelligent and thoughtful collection of songs he should be proud of.