My Favorite Places: Thurston Lava Tube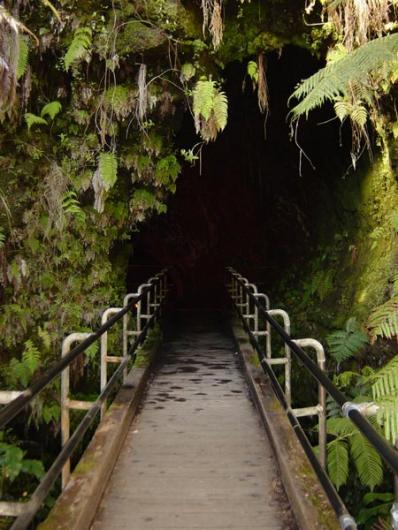 A walk into the maw of the Thurston Lava Tube at Hawaii Volcanoes National Park is always exciting. No matter how many times one does it.
Having grown up on the Big Island, I've been through it a couple dozen times.
Several hundred years ago a large eruption near the summit of Kilauea created this 500-foot long lava tube. It's a cave-like tunnel that once carried fast-moving molten lava; now you can walk through it.
Lava tubes are created when a fast-moving channel of lava ducks under an above-ground flow. These channels are often huge near an eruption site, separating into smaller lava tubes that can feed a moving flow miles away.
Lava from the current Kilauea eruption is being carried to the ocean primarily through tube systems.
When an eruption ends (or magma diverts elsewhere), the lava channels drain, leaving behind hollowed-out tubes. Thurston Lava Tube is located near the source of the flow that coursed through it centuries ago. It was a big flow, so the section of it that's open to visitors has enough height and width for most to move through comfortably.
A brief walk through a thick fern forest leads to a lush, near-invisible pit crater and the lava tube's entrance. The trill of forest birds quickly gives way to the echo of your own shuffling footsteps and dripping water from the ohia tree roots that enter the tube's ceiling from the forest above. There's just enough electric lighting to see the varying textures and compositions of the lava walls.
I recommend a visit in the late afternoon when there are fewer visitors. It's a little more eerie to walk through without much company—you may even find yourself a bit frightened if Kilauea's chilly, forest-kissed winds are whistling through.
The walk through Thurston is brief. But you can stay as long as you like, before exiting back into the forest through a collapse in the tube's roof.
The tube is named after controversial Hawaii newspaper publisher Lorrin Thurston, who had a hand in the area becoming a national park and the 1893 overthrow of the Hawaiian Monarchy. The lava tube also has a Hawaiian name, Na Huku, which refers to the protuberances on the tube walls.
Click here for directions to Hawaii Volcanoes National Park and Thurston Lava Tube.