National Geographic's Explorer-in-Residence in Hawaii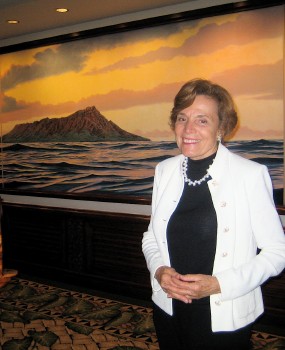 Dr. Sylvia Earle is no stranger to Hawaii's waters.
"I can't count the number of times I've been to Hawaii," says National Geographic's Explorer-in-Residence. "But I'm back again."
Twenty-nine years ago, Earle took a submersible down off Oahu's Makapuu Point and then walked 1,250 feet below the ocean's surface. Today, she's back in Hawaii as the keynote speaker for the 2008 Hawaii Conservation Conference, which started this morning.
The three-day conference gathers individuals interested in protecting Hawaii's natural environment. It also focuses on the International Year of the Reef and the Island's ecosystems.
I first heard Earle speak eight years ago at an international conference for Phi Theta Kappa in Orlando, Fla. When I chatted with her yesterday in Waikiki, she was still the bubbly person I remember. In her 70s, she's still full of energy and passion.
Nicknamed "The Sturgeon General," Earle insists, "We haven't been doing a good job taking care of the ocean. The ocean is in trouble, so we're in trouble."
Earle has seen how the ocean has changed over the years. As the former chief scientist of the National Oceanic and Atmospheric Administration (NOAA), she has logged more than 6,000 hours underwater. She's been an Explorer-in-Residence at the National Geographic Society since 1998. She studied Hawaii's humpback whales, and also holds the depth record for solo diving at 3,300 feet (1,000 meters).
Even though her stay in Hawaii will be short, the 72-year-old deep-sea diver still finds a way to get her feet wet. She'll be diving off of Kaneohe Bay tomorrow.
"It keeps my gills wet," she says, smiling.