New, first-ever Hawaiian monk seal hospital helps save four seal pups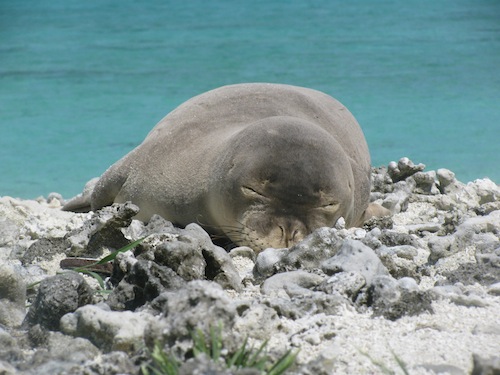 For four young Hawaiian monk seals, life is looking up.
Researchers from The Marine Mammal Center and the National Oceanic and Atmospheric Administration (NOAA) rescued four Hawaiian monk seal pups on July 9th, during a 26-day research mission in the Northwest Hawaiian Islands. The young monk seals were malnourished and, scientists say, likely to die without human intervention.
The rescued pups were moved from their homes in the Northwest Hawaiian Islands to a new Hawaii Island hospital in Kona designed specifically for the caring of Hawaiian monk seals: Ke Kai Ola. At the hospital, they are being fed and cared for until they are strong enough to survive on their own. Scientists have already given them names–Kulia, Ikaika, Halai, and Makaala. The pups range in age from newly-weaned newborns to one-year-olds. Once the pups regain their strength–hopefully by the end of the summer–they will be released back into waters off the Northwest Hawaiian Islands.
Sadly, the newly rescued pups are not alone in their struggle for survival. Because fewer than 20 percent of Hawaiian monk seals live to see their first birthday, the average baby monk seal is more likely to perish rather than live long enough to procreate. They are especially threatened in the Northwest Hawaiian Islands, a 1,200 mile-long archipelago home to more than 900 Hawaiian monk seals, where ocean trash, predators and changes in the food chain affect juvenile survival rates. The endemic Hawaiian species is critically endangered, with fewer than 1,100 monk seals left in the wild, and a population base that declines by three- to four percent annually.
Though the outlook for Hawaiian monk seals looks bleak even with current conservation efforts, the situation will hopefully improve with the completion of Ke Kai Ola. The four rescued pups are the inaugural patients of the first-of-its-kind hospital, set for full opening in September.
Photo: NOAA/Charles Littnan

Ke Kai Ola (in Hawaiian, "the healing sea") was built by The Marine Mammal Center, a nonprofit veterinary hospital and research and educational center headquartered in Sausalito, Calif. Since the Marine Mammal Center's founding in 1975, it has rescued and cared for more than 18,000 marine mammals along the central and northern California coast.
With the construction of Ke Kai Ola, The Marine Mammal Center is extending its outreach to Hawaii's endangered marine life. The $3.2 million Hawaiian monk seal hospital is located at Keahole Point in Kailua-Kona on Hawaii Island. The facility has separate pens and pools for newborn and juvenile monk seals, as well as quarantine pen areas, facilities for medical staff and food preparation and an education pavilion. Ke Kai Ola will not be open to the public, as it will be a home for very sick, endangered seals. However, the hospital does plan to develop outreach programs to educate the public about seals and conservation efforts involving Hawaii's other endangered marine life.
Ke Kai Ola has been under construction since September 2012. Most of the facilities are completed and ready for patients, so scientists wasted no time in launching their rehabilitation efforts with the four rescued pups.
Scientists already monitor monk seal populations and conduct interventions for those that are hurt or sick. Before Ke Kai Ola opened, however, scientists didn't have the resources to provide the kind of care that many critically injured or ill monk seals needed. Unfortunately, malnourished pups were often left to die. Now, thanks to added (and much-needed) resources provided by Ke Kai Ola, the Hawaiian monk seal population will, hopefully, stand more of a real chance at survival.