New Hawaii Five-0 bowing on Hawaiian Airlines flights before U.S. premiere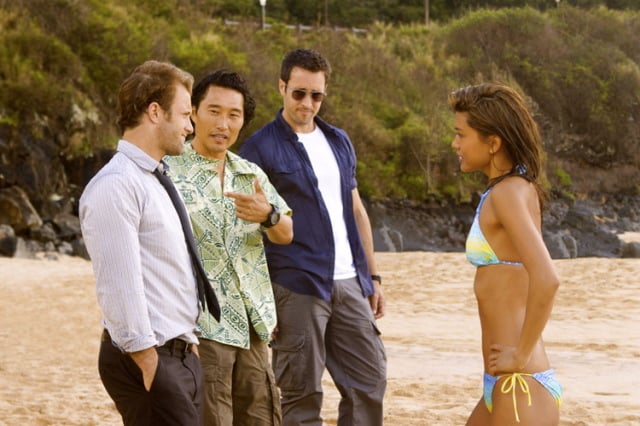 The brand new series redux of Hawaii Five-0 premieres nationwide on CBS on Sept. 20. Folks lucky enough to be on Oahu on Sept. 13 will get to see the entire episode from the sands of Waikiki's Queen's Surf Beach at a Sunset on the Beach screening.
But if you're flying select Hawaiian Airlines routes to the Islands from now through Sept. 20, you'll be able to see it before anyone else.
The Hawaii-based carrier is screening the first episode of the new Hawaii Five-0 for passengers flying to Hawaii from 10 of its Western U.S. gateway cities: Los Angeles, San Francisco, Oakland, San Jose, Sacramento, San Diego, Seattle, Portland, Phoenix and Las Vegas. Passengers on inbound Hawaiian Airlines flights from Manila, Sydney American Samoa and Tahiti will also get to see it.
The premiere episode will be mixed in with the carrier's Hawaiian Skies in-flight video program.
Hawaiian Skies focuses more on the culture, activities, products and scenery of our Islands. Hawaii Five-0 will have its focus squarely on the Island crime-fighting prowess of the elite Five-0 task force led by Det. Steve McGarrett.
We assume you'll know which program is fictional.
What does Hawaiian Airlines get as part of the deal? Placement of its aircraft in the opening credits of every episode of the new Five-0. Not a bad deal, we think.
As for us, we're still hoping to warm Hawaii Five-0's producers on the idea of a scene or two featuring Daniel Dae Kim's Chin Ho Kelly character perusing a copy of HAWAII Magazine.
Wish us luck.
Read a previous HawaiiMagazine.com post on our first-look screening of the new Hawaii Five-0 here.