New pamphlet makes identifying Hawaii's birds easy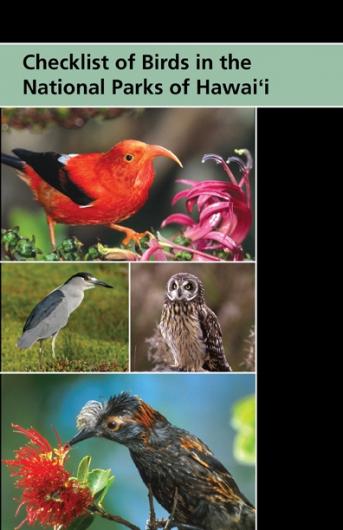 The Islands' rich ecological diversity is reflected in its bird population. Hundreds of avian species call Hawaii home.
With the countless number of species—many bearing similarities to one another—distinguishing our feathered friends can be a daunting task. A new publication details all you need to know about Hawaii's birds.
The Checklist of Birds in the National Parks of Hawai'i is a 12-page color booklet that profiles 158 different native and indigenous birds. Compact in size and cheap (it goes for just $2.50), the guide is a must-have on the trail for the avid ornithologist or the casual bird watcher.
Where in the Islands can you spot the Kaloko-Honokohau (Hawaiian Duck)? What are the Hawaiian and Latin names for the red-tailed tropicbird? (Koaeula and Phaethon rubricauda, respectively.) Which species of endemic honeycreepers may have recently gone extinct? You can find the answers to these questions and many more.
Published by nonprofit organization Hawaii Natural History Association (HNHA), proceeds from the booklets will help fund Hawaii's National Park Service-sanctioned parks, supporting education programs, cultural demonstrations and other related activities.
Checklist of Birds in the National Parks of Hawai'i can be found in visitor centers of state parks served by the HNHA. Or click here to order a copy for yourself, or call (808) 985-6051.