New PBS Nature doc on Kilauea volcano first to film entirely for HDTV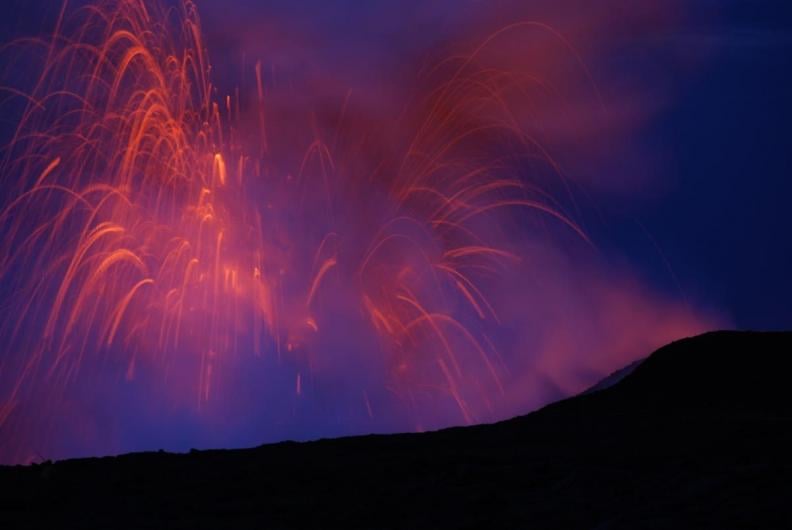 UPDATE, 3/30/2009: Kilauea: Mountain of Fire is now viewable online, in its entirety. Click here to watch.
If you can't go the Big Island of Hawaii to see the current eruptive activity at Kilauea volcano in person, a new documentary airing this weekend on PBS might be the next best thing.
Producers of Kilauea: Mountain of Fire say their documentary is the first of the ongoing eruption at Kilauea filmed specifically for high-definition television. Filmed last year at a particularly heightened period in current Kilauea activity, the doc airs Sunday evening on the long-running Emmy-award winning PBS series Nature. (Click here for program times for your local PBS station.)
Given extraordinary access by Hawaii Volcanoes National Park, the crew of Kilauea: Mountain of Fire aimed to take viewers about as close as one could get to the powerful forces of nature at work on the volcano. Another goal was capturing the challenges of the animal and plant life living in Kilauea's shadow.
The footage we've seen so far certainly looks impressive.
Aerial views peering into the maw of Kilauea volcano's Puu Oo vent. Molten lava from Puu Oo reacting explosively in blasts of steam and lava particles as it meets the cold, roiling sea. Close-up sights and sounds of underwater lava flows building more Big Island land beneath the surface of the waves. A hike into the pitch darkness of Kilauea summit's Kazumura lava tube, the world's longest and deepest.
"The production used a variety of filmmaking techniques to bring this story to life," says producer-director Kevin Bachar. "From special camera cranes offering us unique perspectives, to underwater housings allowing us to get up close … the production team was always looking for interesting ways to tell the story about this volcano."
Gathering footage of the resilient animals making their home in and around the volcano's unpredictable environs, Bachar's crew encountered Hawaii state bird the nene goose, various species of lava tube-dwelling creatures called troglobites and an attack by a swarm of invasive wasps. One of the most captivating of these encounters focuses on efforts to protect the Hawaiian green sea turtles, which make their home offshore where coral clings to hardened lava.
Says Bachar: "In the end, the film crew was able to bring back a unique and extraordinary look at Kilauea volcano, with some images never captured before in high-definition television."
Click the below frame for a behind-the-scenes look at the filming of Kilauea: Mountain of Fire.