New tour offers behind-the-scenes look at engineering that powered "Mighty Mo"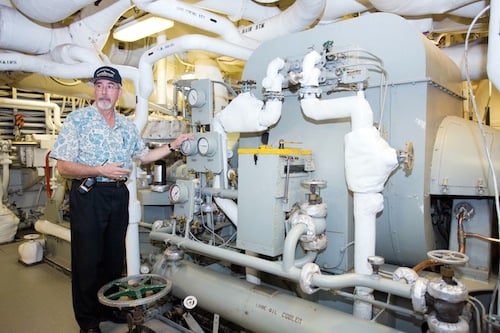 A new tour slated to start tomorrow aboard Battleship Missouri Memorial in Oahu's Pearl Harbor offers a behind-the-scenes look at the feats of engineering that powered the "Mighty Mo."
During the Heart of the Missouri Tour, guides will take visitors through ship areas never before available including boiler, plotting and engine rooms. Visitors will be invited to undergo a quick, hands-on training in how to light one of the 40,000-tone ship's eight, three-story boilers and adjust throttles, thereby releasing the steam that drives the ship's massive propellers.
In a news release issued by the memorial, its president, Mike Carr, said: "The Heart of the Missouri tour is a unique experience unlike anything we've ever offered at the Battleship Missouri Memorial. For the first time visitors will get to see how the Missouri worked."
Carr added, "You get to see … how she was powered, how the guns were aimed and fired and tons more. This ship was really a marvel of her time and the Navy engineers thought of everything when they built the Iowa-class battleships."
The battleship's career spanned five decades before it was decommissioned in 1995. Among the ship's historical highlights: On Sept. 2, 1945, Supreme Allied Commander Gen. Douglas MacArthur and representatives from 10 nations assembled on the USS Missouri in Tokyo Bay to accept Imperial Japan's formal, unconditional WWII surrender.
The formal surrender aboard the USS Missouri followed V-E Day (Victory in Europe Day), May 8, 1945, when German troops laid down their arms after Germany surrendered to Allied Nations. Japan announced its surrender on Aug. 15 (Japan time) and formalized the agreement on Sept. 2 aboard the ship, thereby finalizing the Allies' victory over Axis Powers.
For more information about Heart of the Missouri Tour, click here.