NFL all-star Pro Bowl game leaving Hawaii for 2015, returning in 2016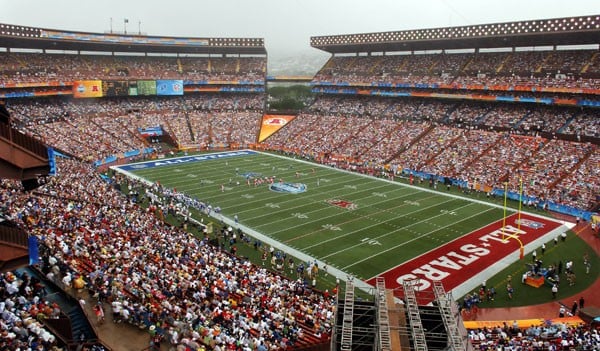 For only the third time since 1980, the NFL Pro Bowl will not be played in Hawaii.
The National Football League announced yesterday that its annual all-star game will relocate to Arizona next year and set for Sun., Jan. 25, 2015, at University of Phoenix Stadium. Super Bowl XLIX will take place a week later in the same stadium.
The NFL Pro Bowl will return to Oahu's Aloha Stadium in January 2016, with Santa Clara, Calif.'s Levi's Stadium hosting the Super Bowl a week later. The NFL also announced that it had reached an agreement with the State of Hawaii to return the Pro Bowl to Oahu in January 2017, but would offer final confirmation at a later date.
No reason was given by the NFL for its decision to move next year's Pro Bowl to Arizona. The 2015 game would be only the third all-star game played outside of Hawaii since 1980. Florida's Sun Lite Stadium hosted the most recent Pro Bowl played outside Aloha Stadium in 2010.
According to the Hawaii Tourism Authority (HTA), this year's Pro Bowl at Aloha Stadium drew 47,270 attendees and a U.S. television audience of 11.4 million viewers.
The game is annually a boon to Hawaii's visitor industry, this year contributing an estimated $71.9 million in direct visitor spending in the state, according to HTA.