Night horseback riding in Hawaii. I saddle up.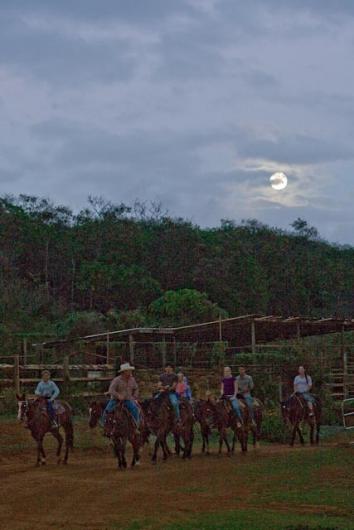 Looking for a unique nightlife experience on Oahu? Try horseback riding by moonlight.
On a recent evening lit by a full moon, I grabbed my boots and drove up east Oahu's windward coast to the small town of Laie. Gunstock Ranch owner Greg Smith was ready to fit me up with a horse for the ranch's apropos-named Moonlight Ride. We saddled up and got on our horses just after sunset and set off through the open fields and dense forests of Laie. The rising moon and a sky full of stars guided our way.
Gunstock's moonlight rides are offered only twice a month—weather permitting—either before or during a full moon. Winter weather in Laie of late has been breezy and cool, with the occasional shower reported. No fluke tornadoes. Fine conditions for an evening ride.
Our goal the evening I rode was a ridge overlooking the twinkling lights of Laie and beyond. A light rain fell as we ascended the ridge. Along the way we encountered everything from border collies that wove between our horses' legs to pitch-black forests with low-hanging branches to a bizarre plant that resembled a giant pineapple. (I never found out what it was.) Good times, indeed.
You can read more about my adventures on the post-sunset trail in the upcoming March/April 2009 issue of HAWAII Magazine, on newsstands and in mailboxes in the next couple of weeks.
If you're looking for an outside-the-norm Valentines Day date this weekend, consider taking your significant other on one of Gunstock's Sweetheart Rides. For these daylight rides, couples are privately escorted to a ridge high above the ranch for a catered picnic lunch with sweeping ocean views. Gunstock confirms that there are still Valentine's Day openings. But if you can't make that date, Sweetheart Rides are offered every day. Cost is $149 per person.
For more information on any of Gunstock Ranch's many specialty rides, click here, or call (808) 341-3995.