Oahu's best wheels-with-meals meet again for Eat the Street food truck rally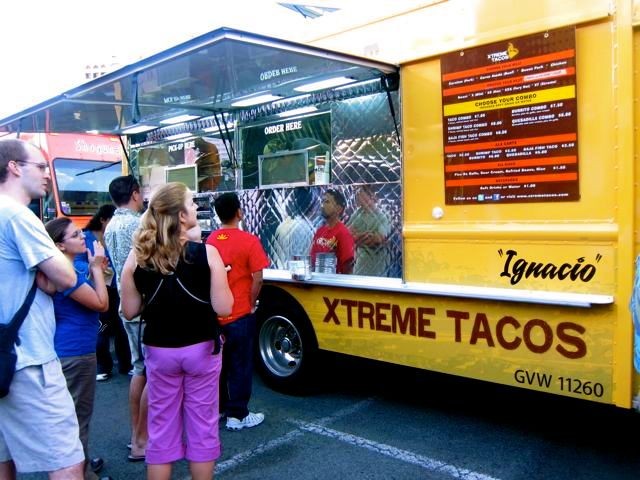 On a warm winter evening last month, more than 1,000 hungry Honoluluans converged in a small parking lot near Ala Moana Center to sample some of the city's best food truck cuisine.
The event, dubbed Eat The Street, wound up a wildly successful first-time-for-Honolulu venture, thanks, in part, to social media sites like Twitter and the cadre of food trucks that embraced the idea.
People, many of them just off work, braved long lines and virtually zero parking to check out the city's brand new food truck and street food rally and, of course, indulge in everything from Mexican and Korean tacos to gourmet grilled cheese sandwiches, Hawaiian plate lunches, cupcakes and soul food.
Demand for a second rally was so fervent that event organizer Poni Askew decided to take the event monthly. And if you're on Oahu this Friday evening, with no dinner plans, you're in luck.
The second Eat the Street food truck and street food rally is happening from 5 to 9 p.m., Feb. 25, at the 555 South Street parking lot, near Restaurant Row in Kakaako.
"You can again taste all the food trucks in one place, at one time, in the evening and in a relaxed environment," says Askew. "What could be better than that?"
This month's Eat the Street will boast double the amount of food trucks on quadruple the amount of space—a four-acre parking lot will hopefully offer attendees more room to move. You can also expect a few of the mobile vendors—such as uber-popular Melt Honolulu, which serves gourmet grilled cheese sandwiches—to unveil new menu items specifically for the event.
A tip about the bigger spread for Eat the Street part deux, tho, from a veteran of last month's event: As with any event drawing a 1,000-plus crowd, a larger venue doesn't necessarily translate into shorter lines at the food trucks.
My advice? Get there early and plan your food truck attack ahead of time.
Check out the list of Eat the Street vendors at the end of this post, and check out their websites. Peruse their food offerings and prioritize. Follow their Twitter feeds for updates. The more popular trucks — Gogi Korean Tacos, Melt Honolulu, T.A.S.T.E., Soul Patrol— will likely have longer lines, so hit those first.
Most importantly, however, don't wait too long in lines at trucks whose food you want to sample. At last month's Eat the Street, a few trucks sold out before the event was over. Move around, or better yet, bring a group of friends and divide your attack on the food trucks so everyone gets a piece of a the food action.
Trust us. You won't be disappointed.


Eat the Street, part deux, participating food trucks (with Twitter handles) :
• 4 Caterers
• Aloha Ice Cream Tricycles
• The Cafe Truck (@CafeTruck)
• Camille's on Wheels (@camillesonwheel)
• Dixie Grill (@DixieGrill)
• Elena's Home of Finest Filipino Foods (@ElenasFilipino)
• Fairy Cakes Hawaii
• Gogi Korean Tacos (@EatGogi)
• Hawaii Hot Dogs
• Jawaiian Irie Jerk
• Kakaako Kool (@KakaakoKool)
• Le Crepe Cafe
• Let Them Eat Cupcakes (@LTEatCupcakes)
• Lickety Split
• Malia's Pasteles and Poke
• Melt Honolulu (@meltHNL)
• Ono to Go
• Soul Patrol (@pacificsoul)
• Stacy's LauLau and Grindz
• T.A.S.T.E.
• Tacos Vicente
• Whys Catering
• Xtreme Tacos (@xtremetacos)
• Yelp (@yelphawaii) — (non-food)
• Zsoli's Chimney Cake Hawaii (@ChimneyCakes)