Oahu's Kualoa/Hakipuu Canoe Festival spotlights Polynesian voyaging traditions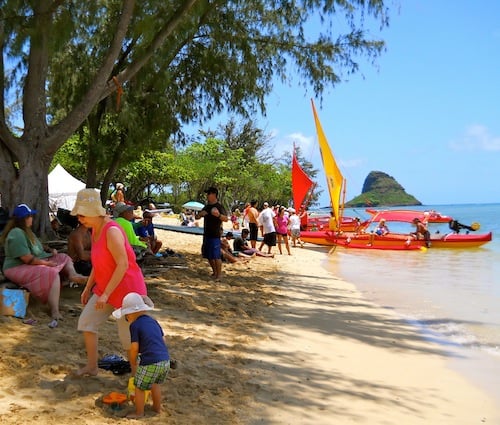 The fourth annual Kualoa/Hakipuu Canoe Festival, which spotlights historic and ancient traditions of canoeing dating back to the Polynesian voyaging era, is set for Sat., March 9 in Kualoa Regional Park on Oahu's windward side, edging Kaneohe Bay.
This year's free fest, which will get under way at 10 a.m. and wrap up at 3 p.m., showcases master canoe builder and canoe paddle-maker Bobby Puakea as he demonstrates various skills. Other highlights: a shoreline display of a variety of sailing vessels and education booths.
In addition, rides will be offered to the public on a sailing canoe and a double-hull canoe. Note: on-site registration is required to ride on canoes.)
Among the organizations attending: the Polynesian Voyaging Society, Hawaii Sailing Canoe Association, and Hui Malama O Ke Kai. The educational voyaging canoe, Kanehunamoku, and charter schools Halau Ku Mana and Hakipuu Learning Center, will host educational booths to share their knowledge of voyaging through various hands-on activities.
Kualoa Beach Park, which literally means "long ancestral background," is considered a sacred area. In 1975, it served as the launching site for the Hokulea voyaging canoe—the touchstone for rekindling Hawaiian heritage and pride in Polynesian seamanship.
The Polynesian Voyaging Society built the Hokulea — a vessel that aims to serve as a replica of the double-hulled voyaging canoe Polynesians navigated to settle in Hawaii. Its inaugural voyage, from Hawaii to Tahiti, was completed without modern navigational instruments. Since that first voyage in 1976, the Hokulea has sailed in Hawaii's waters as well as those in the far corners of Polynesia. It has also made trips to Alaska, from Vancouver to San Diego, and through Micronesia to Japan. The Hawaii-based Polynesian Voyaging Society is now planning a worldwide voyage, which is slated to get under way in June.
For more information about the Kualoa/Hakipuu Canoe Festival, which is hosted by the City and County of Honolulu Department of Parks and Recreation, click here.