Oahu's Mount Olympus. I hike it.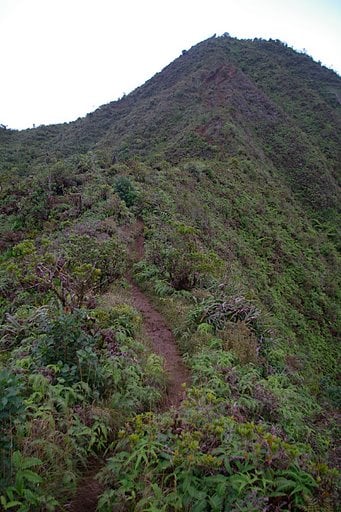 In Greek mythology, Mount Olympus was the home of the gods. On Oahu we have our own Olympus. You won't find Zeus here, but remarkable views of Honolulu, the Manoa and Palolo Valleys and East Oahu await those who make the trek.
The best way to get to Mount Olympus is up the Waahila Ridge Trail. Last time I hiked Waahila, time constraints kept me from proceeding all the way. A recent patch of fair weather beckoned me to return.
My hiking partner and I set off in the early afternoon. We quickly traversed the Waahila Ridge Trail, arriving at the sign that marked the end of the lower trail. Take a right at the sign and you will head toward Olympus.
The trail narrows through a forested area before arriving at a steep rock face. Logs and branches provided support as we climbed. Soon we reached a grassy knoll with a stunning panorama of the Manoa and Palolo Valleys, all the way out to the ocean.
We marched on. The trail was muddy and uluhe ferns raked against our ankles. Don't be deterred, the best is yet to come.
We crossed a thin land bridge—where the backs of the Manoa and Palolo valleys meet—and arrived at the foot of a peak, one that leads to the summit of Mount Olympus. Exercise extreme caution from this point on. Surfaces are slick and the narrow foot holes carved right into the mountainside. You will find yourself grabbing onto branches and other vegetation for support.

At Olympus' summit our heads were in the clouds—literally. A heavy fog rolled in, partially obstructing our views of Hawaii Kai and East Oahu. Still, mere fog could not diminish the adrenaline of standing more than 2,300 feet above sea level, all of Honolulu stretched out far below our feet.
If you do ascend up Mount Olympus, give yourself enough time and wear proper shoes. The hike from Waahila to Olympus stretches roughly six miles round trip.
Click on the slideshow below for larger photos from my hike.