Oahu's Pacific Aviation Museum opens "Amelia Earhart in Hawaii" photo exhibit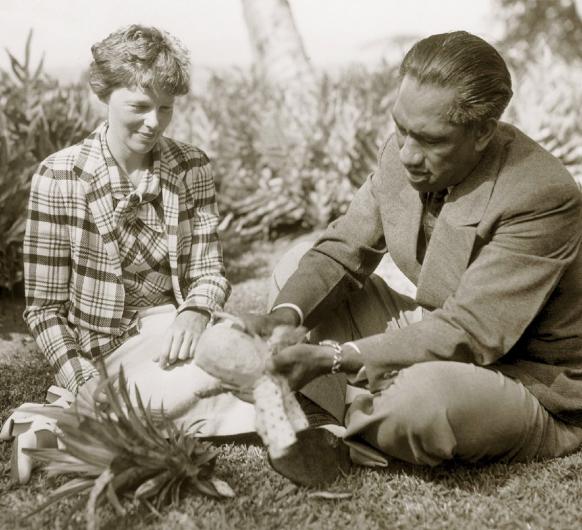 The first commercial flight from the mainland to Hawaii was on April 16, 1935 — a Pan American Airways seaplane flew from San Francisco to Pearl Harbor in 17 hours and 14 minutes. That's about three times the length of today's typical flight from the West Coast. (Note to self: Never grumble about possible flight delays.)
Before that first flight, your only transportation option would have been a much, much longer boat ride.
Even Amelia Earhart traveled for five days by boat — from Los Angeles to Honolulu — arriving at Aloha Tower on Dec. 27, 1934. During her stay here, Earhart vacationed in Waikiki, flew over the Hawaiian Islands, and prepared for her solo flight across the Pacific from Honolulu to Oakland. She went on to become the first person to fly solo, trans-Pacific, from Honolulu to Oakland, Calif.
The Pacific Aviation Museum on Oahu's Ford Island — where Earhart once ground-looped her plane — is honoring the aviation pioneer with its new Amelia Earhart in Hawaii Photo Exhibit, with exclusive Earhart photos courtesy of Matson Navigation Company. The photos, which are now permanent exhibit at the museum, are a gifted collection from Matson Archives documenting Earhart's time in Hawaii from December 27, 1934 to January 11, 1935 and March 17 through March 20, 1937. Among the photos are a few shots with Hawaii's legendary waterman Duke Kahanamoke (pictured, above).
On March 20, 1937, Earhart crashed her Lockheed Electra at Ford Island and thereby ended her first attempt to fly around the world. According to Hangar Talk, a Pacific Aviation Museum blog site for pilots, during Earhart's ground loop on a slick runway, her plane spun left.
Then, "all of the aircraft's weight was put on the right landing gear as the left wing lifted the left landing gear off the runway. The combined weight of the heavily packed Electra and its three crew members was too much. The right landing gear collapsed. The Electra spun on the ground in the shower of sparks," according to Hangar Talk.
Earhart reportedly left Hawaii that afternoon on the Steamship Malolo to return to California and plan her next attempt. Later that year, while attempting again to fly around the world, her plane disappeared over the Pacific Ocean.
The Amelia Earhart in Hawaii Photo Exhibit opened on Sun., July 24 — Earhart's 114th birthday. For additional details about the exhibit and Pacific Aviation Museum ticket information and hours of operation, click here.