Obama bids farewell to grandmother on Oahu coast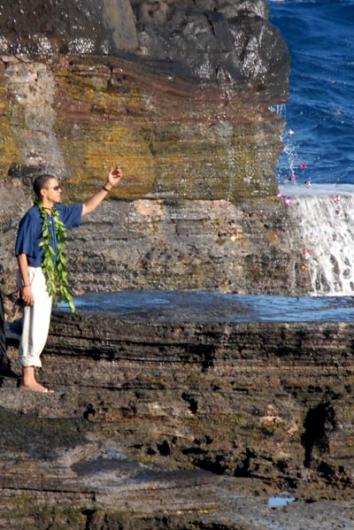 President-elect Barack Obama attended a memorial for his late grandmother Madelyn Dunham yesterday afternoon, later scattering her ashes into the Oahu surf.
Dunham, referred to as "Toot" by Obama, died of cancer in Honolulu at age 86, two days before her grandson was elected president. Obama was not able to attend Dunham's funeral last November due to the whirlwind of events following the election.
A closed memorial was held at Honolulu's First Unitarian Church yesterday. Afterward, Obama and about a dozen others—including wife, Michelle, daughters Malia and Sasha and half-sister Maya Soetoro-Ng—traveled to Lanai Lookout on the far southeast corner of Oahu. The group scaled a short wall to reach a remote section of rocky shoreline where Obama and Soetoro-Ng scattered Dunham's ashes into the Pacific Ocean.
It was the same place where Obama had scattered his mother's ashes following her death in 1995, and where he had tossed a lei into the surf in her memory on an August trip to Hawaii.
The president-elect has been on vacation in Hawaii with his family since Saturday, staying in Kailua. The family is scheduled to leave Hawaii for Chicago on New Year's Day.
Obama has been candid about his grandmother's influence throughout his life. Dunham and Obama's grandfather, Stanley, raised him in their Beretania Street apartment for most of Obama's adolescence.