Obama grandmother Madelyn Dunham dies at 86 in Honolulu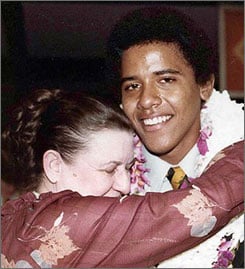 Madelyn Payne Dunham, the grandmother of Democratic presidential candidate Barack Obama, died late last night in Honolulu. She was 86.
"It is with great sadness that we announce that our grandmother, Madelyn Dunham, has died peacefully after a battle with cancer," Obama said in a statement. "She was the cornerstone of our family, and a woman of extraordinary accomplishment, strength, and humility. She was the person who encouraged and allowed us to take chances."
The Hawaii-born-and-raised Obama had left his presidential campaign for two days last month to return to Oahu to visit his then-ailing grandmother, whom he affectionately called "Toot." Obama told CBS News before that visit that he did not want to be too late in seeing her, as he was when his mother died of cancer in 1995.
Dunham, who with her late husband Stanley Dunham raised Obama in their Honolulu apartment during his teenage years, was the Illinois senator's last living maternal grandparent.
Madelyn Dunham's death came a day before Election Day, in the very same apartment in which she raised her grandson. She had voted for him in early absentee voting.
The New York Times reported that Obama learned of his grandmother's death in Jacksonville, Fla., where he was about to begin a day of Election Eve campaigning.
"Our family wants to thank all of those who sent flowers, cards, well-wishes, and prayers during this difficult time. It brought our grandmother and us great comfort," said Obama, in the joint statement, released with his sister Maya Soetoro-Ng.
Soetoro-Ng resides in Honolulu, and had cared for Madelyn Dunham in her final days. "Our grandmother was a private woman, and we will respect her wish for a small private ceremony to be held at a later date."
"She's gone home," Obama said later in the day, shedding tears, at a rally at the University of North Carolina-Charlotte. "And she died peacefully in her sleep with my sister at her side. And so there is great joy as well as tears."
Soetoro-Ng, in a statement, recounted her grandmother's longtime connection to Hawaii, "My grandmother made her home on these islands since 1959, and she loved the people of Hawaii. We want to thank Tutu's friends and extended 'ohana for the outpouring of aloha over the past few weeks."