Oh, baby! Meet Sea Life Park Hawaii's newborn dolphin.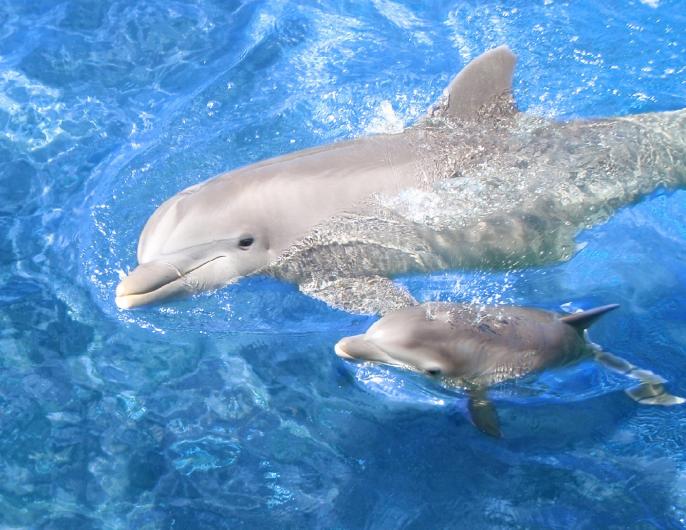 It's a girl!
After finding the photo above in our email this morning, we couldn't resist introducing the newest member of the Sea Life Park Hawaii ocean ohana, Waiohakaupo. The healthy bundle of watery joy was born earlier this month to Hiiaka, one of the park's Atlantic bottlenose dolphins.
The park introduced Waiohakaupo to the public this week with a Hawaiian blessing ceremony. But the photo pretty much shows how Waiohakaupo has been spending much of her time since her birth on July 6—swimming alongside her mom.
The rest of the newborn's day is mostly spent nursing, said park staff. Waiohakaupo is already a healthy 40 to 45 pounds, and measures a compact 45 inches in length. She'll grow fast, though. Dolphins can gain as much as seven times their birth weight in the first year of life.
So your best bet to see Waiohakaupo in all her pint-sized cuteness is to stop by the park now. Sea Life Park staffers are offering guided tours of baby and mom. For more info, check out the park's Web site here.
Waiohakaupo means "joyous life and breath of the waters of Kaupo" in Hawaiian. Kaupo is the name of the beach neighboring Sea Life Park on Makapuu Bay on Oahu's southeast shore.