Ohana Shop on Kauai showcases local goods and community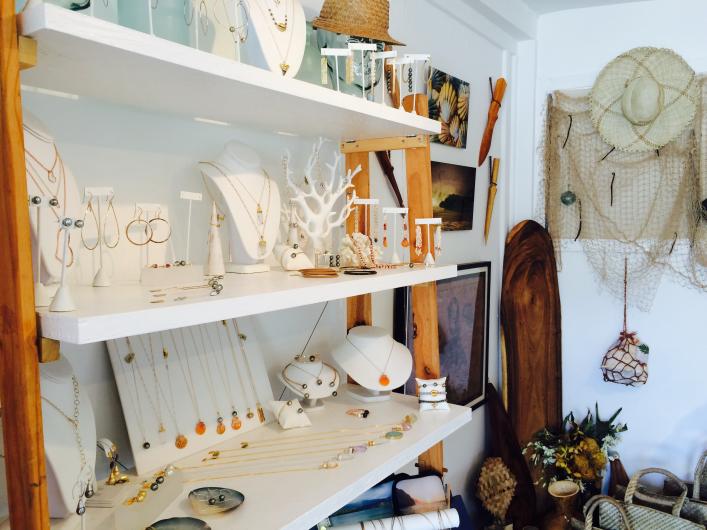 In the lush Wainiha jungle, where the untamed, volcanic coastline stands unchanged by time, Kauai natives Koral McCarthy and Moku Puulei-Chandler wanted to do something to celebrate local artisans.
Located on Kuhio Highway next-door to the no-frills Wainiha General Store, Ohana Shop is at once a fashion boutique and a gallery of unique works by local artists. The shop, which opened in February, is the perfect place to browse for authentic keepsakes to commemorate your Hawaii trip or gifts for loved ones back home. Prices are moderate and the inventory is ever changing.
"I spent a lot of time thinking about what we could do to support and perpetuate the knowledge of these artists and craftsmen all around us," McCarthy said. "I thought about starting up a foundation, and then my little brother suggested opening up a shop. And now, here we are."
Displays feature creations by jewelry makers, surfboard shapers and carvers of ancient Hawaiian weapons. There are children's books, hand-woven hats, tarot cards, greeting cards, jarred honey, bangles decorated with Tahitian pearls and fishhook necklaces made of hand-carved cow bone.
Ninety percent of Ohana Shop's stock comes from Hawaii-owned companies, such as Alohiwai, a Hawaii clothing designer, Kealopiko, a Molokai-based maker of pareos, and Rainbow Rhythm, a Baltic-mined amber and gemstone jewelry business based in Anahola on Kauai's northeast coast. McCarthy assembles the dream catchers that adorn the shop's pristine white walls using driftwood, sea glass, shells and other treasures of the sea. What's not sourced from the Aloha State comes from places close to McCarthy's heart, such as Tahiti.
Ohana is the Hawaiian word for family, and McCarthy says it's a perfect descriptor of the new store, which incorporates ideas from members of her own six-member ohana, as well as relatives. Even her four young children, all under age 10, have inspired some of the store's stock, such as the colorful, mini quiver of surfboards shaped by Wainiha's Bobby Allen, better known as BASA, who famously worked alongside the late Robert "Russell" Brown of Russell Surfboards. From modern island fashions to traditional woven jewelry, everything in Ohana Shop has a taste of Polynesia.
"We truly believe that we're all family down here," McCarthy says. "And together we are creating this space for people to live off their art, whether it's Hawaiiana art or any art."