Oils of Aloha celebrates its 20th birthday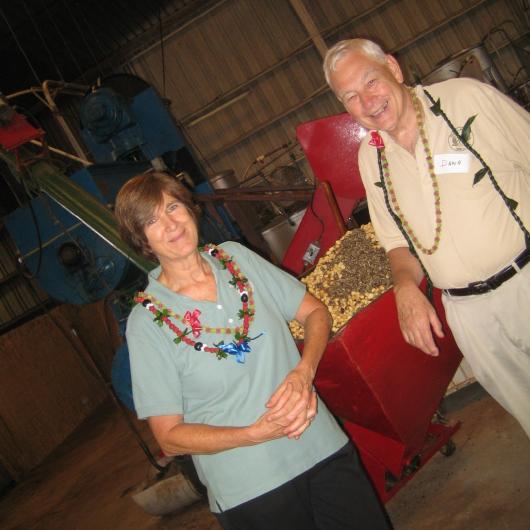 Hawaii's largest producer of macadamia and kukui nut oil products turns 20 years old this year. As part of Oils of Aloha's birthday celebrations, HAWAII Magazine was invited to take a tour of its production facility in Whitmore Village on Oahu.
Their expeller-pressed process is a complex multi-step procedure that extracts and purifies the macadamia and kukui nut oils. It also turns the nuts into a "press cake" that can be ground into a natural exfoliant, which is used in scrubs and facial cleansers. Every part of the nut is used, including its shell.
Oils of Aloha owners Barbara and Dana Gray (pictured right) started the company in 1988 in the historic Koga Theater in Waialua on Oahu. You may be familiar with Oils of Aloha's skin, hair and sun care products. Perhaps you were one of our "Postcards to Hawaii" or "2007 Best of Hawaii" ballot winners who received Oils of Aloha's products. (And you can win a gift from Oils of Aloha simply by filling out our 2008 Best of Hawaii ballot.)
What most people don't know is that Oils of Aloha also makes macadamia cooking and salad oils.
To our surprise, our entire lunch (except for the kalua pig and poi) was made with macadamia oils, including the macadamia smoked salmon, Pele's Firehouse chicken, Kauai Herb Bruschetta and—our favorite—Haleiwa Heat Deep-Fried Turkey. Even the salads and desserts were made with the macadamia nut oil.
Here's the recipe for the Haleiwa Heat Deep Fried Turkeys. It calls for a lot of turkeys and whole lot of macadamia nut oil. It's designed for parties, but we couldn't figure out how to reduce it and still get the same effect.
Haleiwa Heat Deep Fried Turkeys
What you'll need:
4 turkeys (10 to 12 lbs. each)
Injection Mixture (see below)
Flavor injector needle
Dry Rub (see below)
4 to 5 gallons Oils of Aloha Hawaii's Gold Macadamia Oil for deep frying
10-gallon pot, propane tank and large strainer
Haleiwa Heat Injection Mixture
1 gal. Oils of Aloha Haleiwa Heat Macadamia Oil
12 oz. soy sauce
1 jar (1.62 oz.) paprika
3/4 cup salt
1/4 cup pepper
Combine all ingredients and stir occasionally while injecting to keep the ingredients blended.
Dry Rub
1 jar (1.62 oz.) paprika
3/4 cup salt
1/4 cup pepper
Combine all ingredients and blend well.
Directions:
Remove parts from inside the turkeys. Rinse and pat dry. Stir Injection Mixture to keep ingredients blended. Fill needle and inject four times on top of each leg from front to back. Inject half a needle into each wing joint. Inject a needle into each drumstick and thigh. Sprinkle part of the Dry Rub into cavity of each turkey, then rub remainder on outside. Heat macadamia oil to 375ºF, preferably outdoors.

Very carefully and slowly lower turkey into hot oil and cook until golden brown (allow 3-4 minutes per pound). When cooked, the turkey will float to the surface with a perfect crispy, brown skin. Carefully remove from hot oil and allow any excess oil to drain back into the pot, then place the turkey on an oven rack. Allow turkeys to rest for 20 minutes before carving. Makes 20 servings.
For more Oils of Aloha macadamia nut oil recipes, click here.