One of the best places in Hawaii for a romantic dinner? It's on Lanai.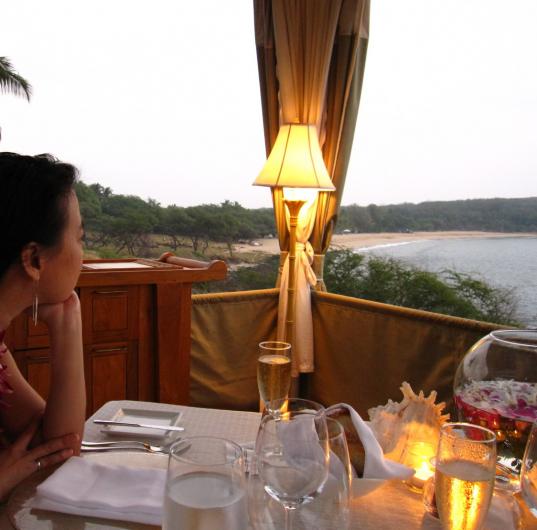 It was as if someone had taken a living room out of a stylish Hawaii home and placed it on the edge of Hulopoe Beach just for us.
Those were my wife's words, as we settled for dinner in the Ocean Hale at the Four Seasons Resort Lanai at Manele Bay recently.
Our eyes darted about the cozy, open-air cabana, perched on a secluded cliff on the resort's oceanfront lawn overlooking the tranquil waters of Hulopoe Bay. The parquet-floored space was elegantly appointed with a teak couch and table set, a couple of lamps and a well-placed collection of seashells, starfish, driftwood and votives. Hushed nahenahe (sweet, gentle) Hawaiian music from a portable Bose music dock played nice with the sound of gentle surf below. It was sunset.
Save for our private server for the evening, my wife and I would be completely alone for the next three hours … no loud patrons at a neighboring table, no screaming children, no clatter from an open kitchen.
"This is a dinner that boys looking for the perfect place to pop the question should know about," said my wife, later in the evening. "Wanna ask me again?"
It wasn't a bad idea.
The Four Seasons Resort Lanai's Ocean Hale can be booked for a private dinner party of up to eight. But frankly, I can't imagine an evening of food, drink and conversation at the hale being as tailor made for a small group as it is for a romantic dinner for two. This is a dinner that pretty much epitomizes romance, on a lovely, but little-visited island that is one of the world's most romantic getaways.
We'd dispatched with our dinner selections earlier that afternoon from the comfort of our garden-view room at the Four Seasons Resort Lanai Lodge at Koele, about 30 minutes upslope from Manele in the mist of the island's cool central highlands. The Ocean Hale dinner offers five courses—including a chef-selected artisanal cheese course. Guests pre-select an item each from a menu of appetizers, small dishes, entrees and desserts. The only decision you need to make once you're seated? Whether to gaze longingly at the stunning view of Hulopoe or your dining partner.
Upon our arrival at Manele, we were met by the resort's assistant manager who draped us with orchid lei and escorted us to the Ocean Hale, tucked away on a private spot on the seaside Plumeria Lawn. A path of torches had been set up to light our way to the hale (Hawaiian for "house") and our private server, Jojo Baltero, waiting with a smile and two flutes of champagne.
A table for two had been set with fine linen, china, silverware, a bowl of orchid blossoms floating in water, seashells and votives. A soundtrack of Raiatea Helm, Jack Johnson and slack key guitar floated on the salt-kissed tradewinds. Corner lamps cast a soft glow on the hale's interiors. The teak couch—and its quartet of plush throw pillows—looked particularly inviting as darkness fell.
Jojo allowed us ample time to take in the Ocean Hale's amazing sunset view of Hulopoe Beach—the resort's signature expanse of white sand, where we'd just spent the day. When our excitement had settled a bit, Jojo excused himself to begin delivering our courses.
Dinner was exquisite. The ahi ceviche I'd selected for my appetizer course arrived heavy with deep red morsels of fresh Big Island ocean farmed tuna in a light, slightly spicy tomato gelee tempered with a sweet note of coconut water. A side serving of papadum chips delivered with the ceviche proved particularly irresistible to my wife, who confiscated a few as a savory match for the sweet fruitiness of her Waimea tomato and melon gazpacho.
For our second course, we split bites of kicky Tandoori chicken satay (my wife's) and a seafood trio of shrimp, kampachi—or Hawaiian yellowtail—and scallops (mine) in a rich Malaysian curry sauce poured tableside. Our entrees, which arrived next, were shared too, albeit reluctantly and in spare forkfuls because they were so delicious.
A hearty portion of onaga (ruby snapper) steamed, then topped Chinese-style with soy sauce, hot oil and fresh ginger and cilantro was pretty much my wife's to enjoy solo. Likewise, a pan-seared tenderloin—served on flavorful bed of celery puree, chimichurri, asparagus and Big Island-grown shimeji mushrooms, all of it topped with a luxurious red wine reduction—was all mine.
For dessert, we went back to splitting plates—a flourless chocolate cake with a dollop of pistachio ice cream and fresh raspberries, and a pineapple upside down cake, the latter recalling the island's plantation heritage.
I still don't know how far Jojo had to journey from the resort's kitchen to deliver each of our courses to the hale as if they'd just been plated—ever the gentleman, he wouldn't tell. But we thanked him profusely for his quiet, unobtrusive service and attention to detail.
Our view of the beach and bay replaced by an unimpeded view of Lanai's clear star-filled sky, we spent the remainder of our evening scanning the heavens with the hale's binoculars and planning our next day on Lanai from the couch. All things considered, it was a perfect romantic evening. A bit pricey? Sure. But for anyone looking to make a memorable romantic impression, well worth it.
"Don't forget to tell your readers about my engagement suggestion when you write this up," reminded my wife, for at least the third time that evening.
Guys, you are hereby alerted.