Only in Hawaii: Santa arrives by outrigger canoe to Waikiki
It's beginning to look a lot like Christmas ... in Hawaii.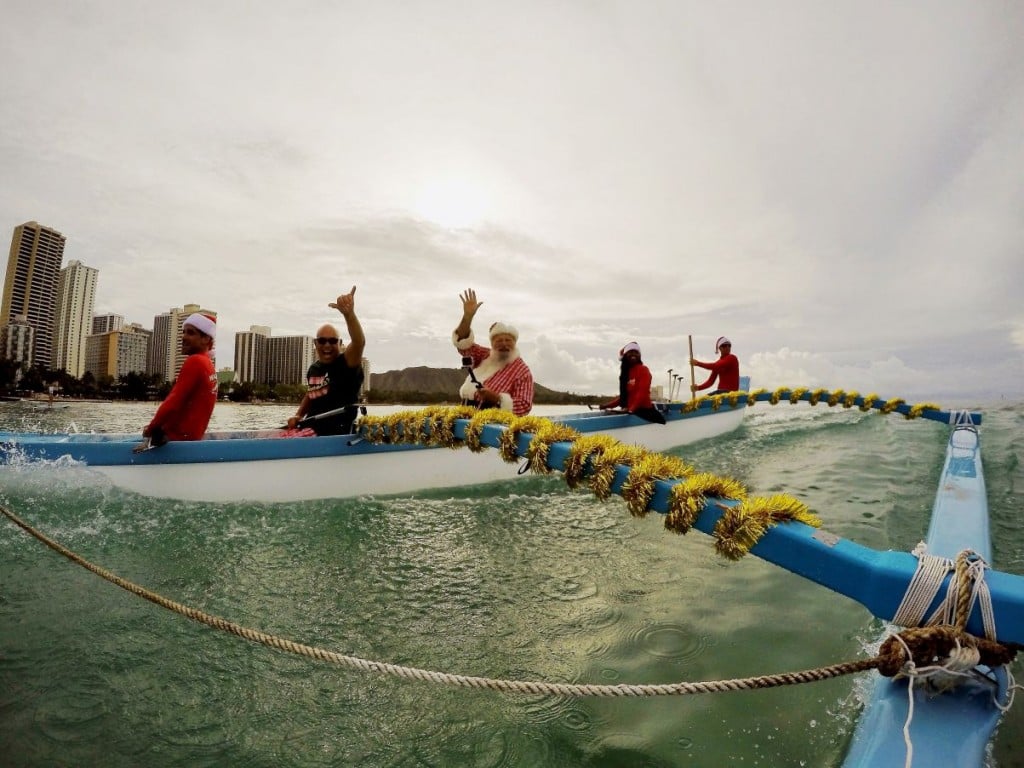 Santa Claus is coming to town, and when said town is found on the most remote island chain in the world, his vehicle of choice is Hawaiian outrigger canoe. In an annual Waikiki tradition at the Outrigger Waikiki Beach Resort, Santa Claus traded in his trusty sled and reindeer for a crew of paddlers, who guided him toward Oahu this past Saturday morning.
You know it's Christmas in Hawaii when you see this jolly guy out on the water.
Santa Claus gears up in his favorite color, his big old belt, jingle bells and GoPro. (Who knew his elves could make GoPros?)
The canoe's iako were decked out in gold tinsel as he and his helpers rode the gentle surf toward Waikiki Beach.
It was slightly overcast, but he was still able to brighten the entire morning.
Here he comes coasting onto the shorebreak!

Visitors and residents alike were there to greet him on his arrival—hula dancing included.
Have a feeling this halau is guaranteed to make the Nice List!
Speaking of, he took out the list he made and checked it twice.
Hawaii routinely ranks as the nation's happiest state, so we know that's got to be a long list there.
Santa wore his traditional robe, but had it slightly tailored for Hawaii's weather: His pants are cut at the thigh. Oh, and it's palaka!

And, yes, even Santa needs to wash the sand off his feet after walking across the beach.