Oracle's co-founder, Larry Ellison, buying all but a small slice of Hawaii's "Pineapple Isle"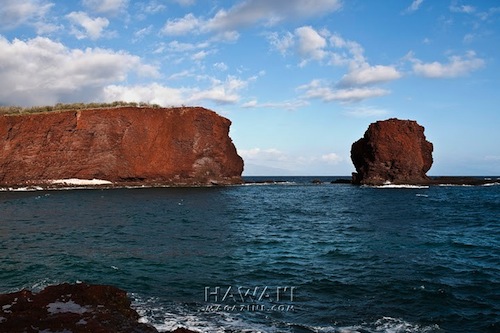 Larry Ellison, co-founder and chief executive officer of Oracle Corporation, the world's largest business software company, is now wrapping up a deal that will make him the owner of all but a small slice of Lanai.
With 90,000 acres of land, including a total of nearly 50 miles of coastline, Lanai — the state of Hawaii's smallest publically accessible island — is believed to be the largest privately held island in the United States. (The County of Maui owns 195.98 acres of the Pineapple Isle and leases 21.43 acres from Castle & Cooke, Inc., which is privately held by billionaire David Murdock.)
According to a statement released yesterday by Hawaii Gov. Neil Abercrombie's office, the current landowner, Castle & Cooke, Inc. has filed a transfer application with the Public Utilities Commission to sell about 98 percent of Lanai to Ellison. The closing of the real estate deal is subject to final government approval.
Also in the statement, Abercrombie said: "It is my understanding that Mr. Ellison has had a long-standing interest in Lanai. His passion for nature, particularly the ocean is well known specifically in the realm of America's Cup sailing. He is also a businessman whose record of community involvement in medical research and education causes is equally notable."
Earlier this week, sources linked to the pending sale confirmed that a potential buyer had been lined up but remained tight-lipped about the buyer's identity. Even so, rumors zipping around the Islands ranked Ellison, who has a home on Lanai among the likely bidders.
The Maui News has reported that the asking price is estimated at between $500 million and $600 million for the largely undeveloped patch of paradise — most of the 430 miles of roads are unpaved and there are no stoplights. At its widest point, Lanai's terrain stretches for 18 miles between shorelines. The sale price has yet to be publically disclosed.
In a news release issued yesterday by Castle & Cooke, Murdock said: "For more than a quarter of a century, I have been a major owner in the private island of Lanai and have enjoyed being part of the island community as it progressed through numerous social and economic changes."
He continued: "Lanai has been my passion for years and I have made huge investments of money, time and energy for the betterment of the island economy and its residents. I built my island home there and will continue to remain a homeowner of Lanai. I have enjoyed my time with the many positive people of Lanai and remain forever grateful for the opportunity to have made a positive difference in Lanai's present as well as its future."
In addition to his home on Lanai, Murdock will retain the rights to develop a potential wind farm on the remote northwestern part of the island. Murdock has clashed with some residents over the project, which has proposed placing windmills on up to 20 square miles and delivering power to Oahu through an undersea cable. Among other things, opponents have said it could ruin pristine views of the Pacific Ocean and other Hawaiian islands.
More than 3,200 residents live on Lanai and about 26,000 tourists visited the island in the first quarter of this year, according to the state figures.
Castle & Cooke, which Murdock owns, and Dole Food Company, Inc., of which he is the major shareholder, have long histories in the state of Hawaii. Murdock said the Lanai sale will allow his Castle & Cooke management team to focus on Oahu assets.
Twelve years ago, Murdock reportedly bought out Castle & Cooke shareholders for nearly $700 million. Murdock closed the island's long-standing pineapple operations and opened two luxury resorts, both managed by the Four Seasons Resorts. Among other efforts, he opened a utility-scale photovoltaic solar farm on Lanai.