Our Essential Kauai Playlist
We've got the perfect songs for your island adventures.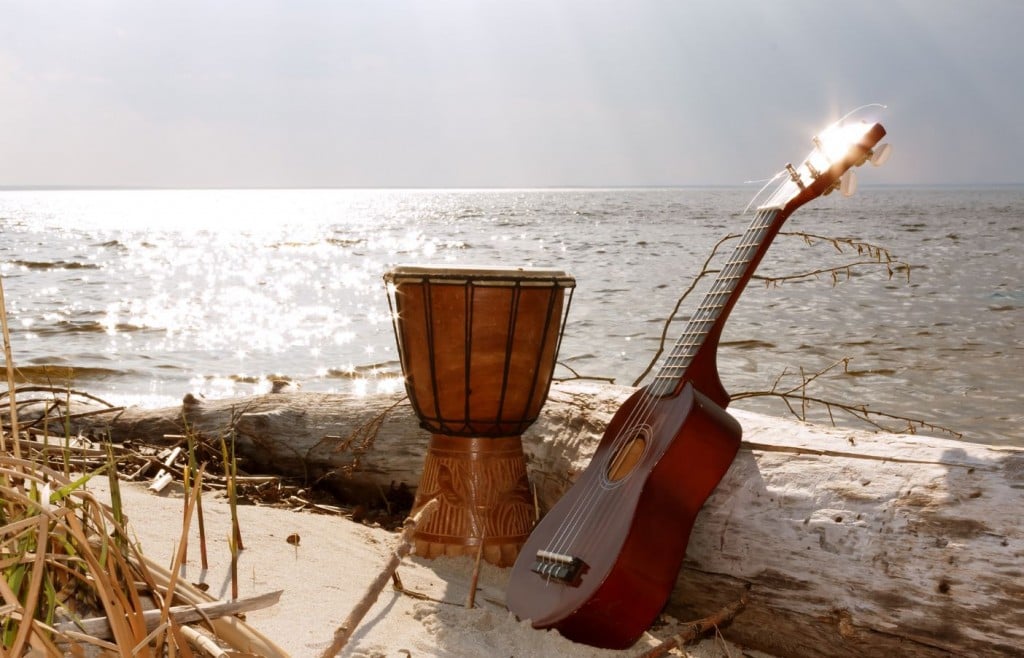 A great song enhances any adventure. Whether you plan to fill your days on the Garden Isle swimming in waterfalls, catching the waves or simply relaxing at beach, we've got the perfect soundtrack. This 14-track playlist features both the vintage sounds of the Hawaiian slack-key guitar and upbeat, contemporary hits.
1. "Nani Kauai" by Amy Hanaialii
This traditional Hawaiian language song about "beautiful Kauai" names many of the geological features that make her so, including Mount Waialeale and Nohili, or Barking Sands beach.
2. "Wade In Your Water" by Common Kings
With roots in Hawaii, Fiji, Tonga and Samoa, reggae-pop group Common Kings embodies the diverse sounds of Island culture. This catchy, feel-good love song will have you grooving in your seat as you drive to your next adventure.
3. "Hanalei Moon" by Dennis Pavao
At any time of day, but especially by moonlight, the crescent-shaped Hanalei Bay is a dreamy setting. Skirted by green, waterfall-soaked mountains, this two-mile long beach is well deserving of its own anthem.
4. "Deep In An Ancient Hawaiian Forest" by Makana
If you're looking to meditate or bliss out during a beach yoga session, put on this mystical, melodious track by Hawaii-born slack-key guitarist Makana.
5. "Blue Hawaii" by Elvis Presley
This song will take you back to the heyday of Hawaii's original Hollywood playground: The Coco Palms Resort. It's where Elvis Presley's character wed in the 1961 film "Blue Hawaii." And good news, decades after Hurricane Iniki shuttered the famous Kauai resort in 1992, the hotel is finally being redeveloped.
6. "Every Little Thing" by J Boog, featuring Fiji
This festive, upbeat jam by one of Hawaii's top reggae artists couples perfectly with a mai tai and a beach chair.
7. "Lilikoi" by Paula Fuga
Hawaii's Paula Fuga is a soulful reggae-rock songwriter who plays the ukulele and occasionally sings in Hawaiian. This sweet song about the local passion fruit is from her self-produced debut album by the same name.
8. "Nohili E" by Makaha Sons of Niihau
This "merry tune for the heart" is a traditional Hawaiian song performed in the elegant Hawaiian language about the remote Polihale State Park, nestled against the island's rugged cliffs.
9. "On a Coconut Island" by Louis Armstrong
On an island where the county planning code dictates that no building may stand taller than the tallest coconut tree, this song about the romantic, lazy days spent by a pair of castaways is sure to put you in full Kauai relaxation mode.
10. "Somewhere Over The Rainbow/What A Wonderful World" by Israel Kamakawiwoole
This Hawaiian-style rendition of "Somewhere Over The Rainbow" by the late, great Hawaiian singer Israel "Bruddah Iz" Kamakawiwoole will have you feeling grateful that the planet includes such an awe-inspiring place like Kauai.
11. "Nawiliwili" by Chan Abenes
The song for many hula performances, this upbeat tune about Kauai demands a falsetto range and a backyard luau.
12. "Hanohano Hanalei" by Alfred Alohikea
Alfred Alohikea was born in Waipio Valley on Hawaii Island in the late 1880s, but the composer and baritone singer spent most of his life in Hanalei, Kauai. He's best known today as the composer laureate of the Garden Isle and "Hanohano Hanalei," is an ode to the north shore town.
13. "Beach In Hawaii" by Ziggy Marley
This contemplative slow jam by the Grammy Award-winning reggae artist and son of Bob Marley is best enjoyed as the pink Hawaiian sun dips into the sea.
14. "Aloha Oe (Farewell To Thee)" by Felix Mendelssohn and his Hawaiian Serenaders
As you make your way toward Lihue Airport's departure gates, find solace in Hawaii's iconic parting song. Composed by Queen Liliuokalani, Hawaii's last reigning monarch, and performed by numerous artists ranging from Tia Carrere to Johnny Cash, the song promises that the pain of separation is only temporary or "until we meet again."