Pan-Pacific Festival celebrates Hawaii's cultural ties with performing arts, parade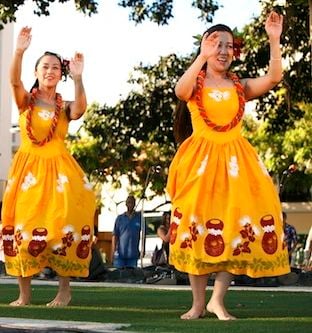 The annual Pan-Pacific Festival — a convergence of Japanese, Korean, Chinese and Hawaiian cultures — is slated to get under way in the Honolulu area on Fri., June 8.
Now in its 33rd year, the three-day international festival will feature dance and theatrical performances and demonstrations as well as a hoolaulea (block party) and a colorful parade — both staged along Waikiki's beachfront Kalakaua Avenue.
Also, the 12th annual Pan-Pacific Hula Festival will be held throughout the weekend, based at Waikiki's Kuhio Beach. It will feature more than 35 hula halau (dance groups) from Japan.
The Pan-Pacific Festival's other performing arts showcase stages will be located at Ala Moana Center's Center Stage in Honolulu and in the Royal Hawaiian Center's Royal Grove in Waikiki. These showcase stages will spotlight hula and Japanese songs and dances performed by a total of more than 40 groups from Japan and Hawaii. Performances are scheduled to start at 10 a.m. on Friday and Saturday, and at noon on Sunday.
The Pan-Pacific Festival will officially kick off at 7 p.m. Friday with its annual hoolaulea, which will include cultural performances and live music on multiple stages. In addition, various ethnic dishes will be served up dozens of food booths. There will also be island craft booths.
Festivities will wrap up on Sunday with the lively Pan-Pacific Parade, which is filled with an international assortment of cultural performers and entertainers, floats and Shinto-style lanterns that designate the front and rear of the parade lineup. The parade will begin at 5 p.m. in the Fort DeRussy area and end at Kapiolani Park.
Organizers predict that a total of more than 85,000 people will attend the events. For additional information about the Pan-Pacific Festival, click here.