'Paradise Views' reveals the stranger side of Waikiki
Photographer Chris Rohrer's show is a layered look at Hawaii's most popular tourist destination.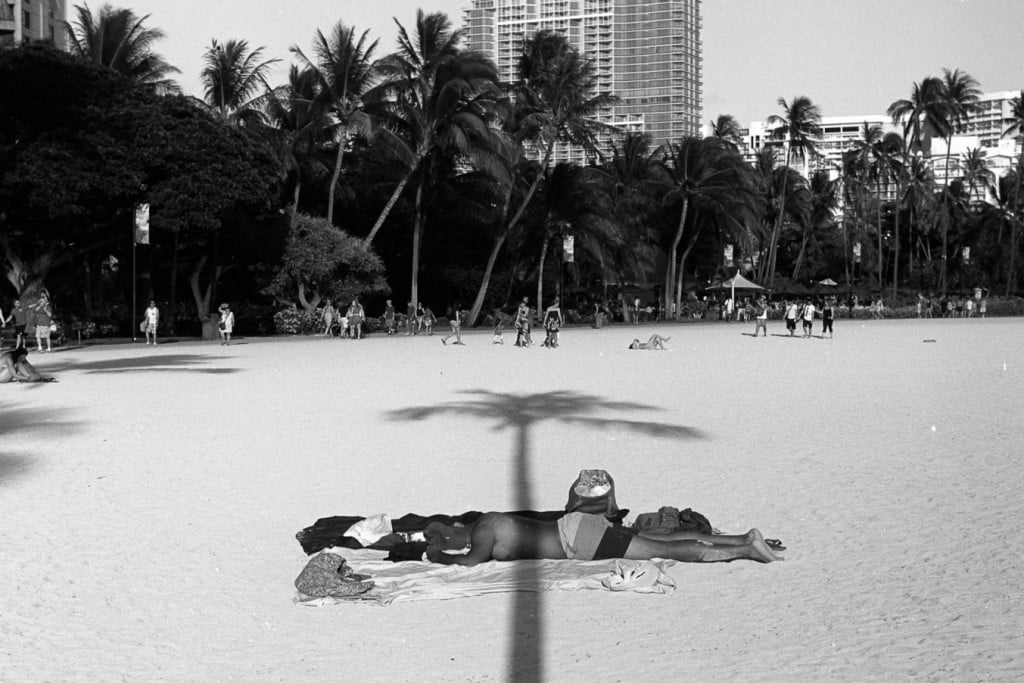 "I think I'm fascinated the most with how people use the space of Waikiki, both tourists and locals," says Honolulu photographer Chris Rohrer. "It's a place where its version of paradise is fake, real, taken, bought, free and sold all at the same time."
In Rohrer's new photo exhibit, "Paradise Views," the artist invites the viewer into this Waikiki world of juxtapositions, depicting its palm tree-laden shores and streets with a realism that's gritty, ironic, strange and dreamlike.
A poster for a Waikiki gun range leans against a tiki monument. A palm tree trunk protrudes through a sliver of steel walls at a construction site. More than a handful of tourists wrap themselves up in ponchos or hunch under umbrellas weathering the disappointment of a rainy beach day.
The result then feels like the photos that would have been left on the cutting room floor of a tourism brochure, the ones that just didn't quite make the postcard racks of the many ABC Stores that dot Kalakaua and Kuhio Avenues, and in that sense, far more interesting and revealing. In its strongest scenes, "Paradise Views" posits shades of Cartier-Bresson, but with a vaguely Hitchcockian feel.
The show is comprised of 150 black-and-white images, plucked from nearly 60 rolls of film he show this past year of the city. He used a Nikonos V, an underwater camera that shoots on 35 mm film, and in a way mirrors the nimble, timeless nature of modern Waikiki.
"I used black and white film as medium to counterbalance the lush colorful postcard paradise views," he says. "I feel that it better expresses the Waikiki that I have come to know."
The interactive installation of "Paradise Views," currently on display at in4mation in Oahu's Chinatown, itself adds another layer of intrigue to the work. Mounted on wall beneath a single beam of neon light hang plastic viewing vestibules containing a single image. What you see within each is always a surprise that mimics the distant, voyeuristic act of peeping into a proasic, if calculated, world.
"I wanted the slide viewer to be like little souvenirs that show a more realistic view of Waikiki," Rohrer says. "To me the neon is there to both light up the viewer but it also mimics the horizon. So when you pick up the viewer it is like you are on the beach staring out into the horizon."
Rohrer's gifts further display themselves here in how acutely targeted and trained his lens is, wavering easily between Waikiki's more absurd and classic subjects. You find yourself staring at the portrait of a show performing guinea pig, somewhat mortified and suffocated by the the circus that is modern day Waikiki … only to reach for another slide viewer and … be given a much needed respite, a scene of two boys paddling into the open water, fishing off a surfboard like it's 1916.
Then there's his interplay with shadow, object and environment, often choosing to let his lens linger on a person's shadow against the sand. It's this photographer's natural eye for chasing the residue a subject leaves behind, a befitting, timely theme for Waikiki: a place that can suck you into its own definition of paradise, for better or worse.
---
"Paradise Views" is on display through Dec. 31 at in4mation, 1154 Nuuanu Ave, Honolulu, Oahu, (808) 538-8898.