Pass the poi, Mr. President. Obama hosting first-ever White House luau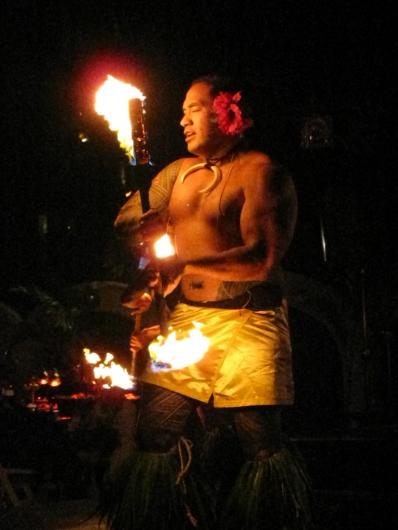 Save those Chicago-style hot dogs for the next South Lawn picnic. The leader of the free world wants his Hawaii grinds.
In a nod to his first home state, President Barack Obama will host the first-ever Hawaii-style luau on the White House lawn, complete with real Island cuisine, hula and music. The Thursday luau is pretty much all the Hawaii-born-and-raised president's idea—his revamping, of sorts, of the annual White House Congressional picnic for members of Congress and their families.
Award-winning Hawaii-based chef Alan Wong is crafting the luau's menu of contemporary Hawaiian cuisine, making use of as much Island-grown produce as he can get to D.C. The chef's Honolulu eatery, Alan Wong's Restaurant, has been a favorite dinner choice of the Obama's on recent visits to Oahu.
The South Lawn luau will also feature hula and music from Hawaii and the South Pacific by Honolulu-based entertainment company Tihati Productions. Daily newspaper The Honolulu Advertiser reported this morning that White House planners specifically requested Tihati add Samoan fire-knife dancers to the entertainment lineup. They'll get six of 'em—doing a fire-knife dance pyramid.
(Click the frame below for HAWAII Magazine video of Tihati Productions fire-knife dancers in action.)
The fire-knife dancers will join a troupe of about 20 musicians and dancers, picked from Tihati luau shows throughout Hawaii.
No word was immediately available on luau dinner menu specifics or any Oval Office requests for specific Hawaii grinds. But we did get our hands on Alan Wong's partial shopping list, which seemed well-stocked for feeding 2,200 hungry politicos and their kin.
Among the items on the shopping list:
• 160 lbs. of green onion, 240 lbs. of tomatoes, 170 lbs. round onion (we're guessing lomi salmon here)
• 650 lbs. of pork butt (kalua pig, anyone?)
• 20 gallons of shoyu
• 20 gallons of sake
• 4,400 Manila clams
• 21 lbs. of Chinese black beans
• 200 lbs. of tilapia
• 100 lbs. of sugar snap peas
And flying up to D.C. with Wong, from Hawaii:
• 70 lbs. of hearts of palm, from Wailea Agricultural Group, Big Island of Hawaii
• 35 lbs. of chevre (goat cheese) from Hawaii Island Goat Dairy, Honokaa, Big Island of Hawaii
• 216 lbs. of mushrooms (50% eryngi, 50% hon-shimeji), from Hamakua Mushrooms, Big Island of Hawaii
• 44 lbs. of chocolate, from Waialua Estate Chocolate, Oahu
• 3 gallons of ko choo jang sauce, from Park's Brand, Oahu
• 35 lbs. of white miso, from Maru-Hi, Oahu
• 84 lbs. of macadamia nuts
• 130 lbs. of salted salmon (now we're all but confirming lomi salmon)
• 60 lbs. of pipi kaula
• 4 lbs. of Hawaii-grown chili peppers
Goat cheese? Manila clams? Tilapia? Sounds like one serious luau, and then some.
Update, 3/25/2009: "A little luau with some great hula dancers and tiki torches and all that good stuff."—Michelle Obama
Watch CBS Videos Online