Patriotic ceremony in Hawaii's Pearl Harbor to mark 66th anniversary of WWII surrender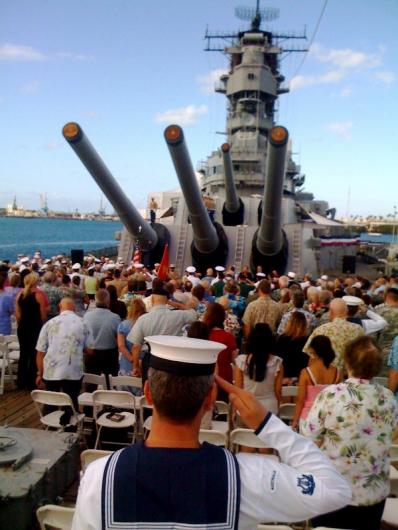 On Sept. 2, 1945, Supreme Allied Commander Gen. Douglas MacArthur and representatives from 10 nations assembled on the USS Missouri in Tokyo Bay to accept Imperial Japan's formal, unconditional surrender.

The Battleship Missouri Memorial — now located a ship's length from the USS Arizona Memorial in Pearl Harbor (Oahu) —will mark the 66th anniversary of the end of World War II in the Pacific with a free ceremony set to begin at 8 a.m. on Fri., Sept. 2 on the "Mighty Mo's" forward main deck.

E. Bruce Heilman, WWII veteran and national spokesman for The Greatest Generations Foundation, will serve as the event's keynote speaker. Rear Adm. Robert P. Girrier, Commander, Carrier Strike Group Seven, USS Ronald Reagan Strike Group, will also offer remarks. And Ruth Ann Becker, board member of the USS Missouri Memorial Association, Inc., will welcome guests to the hour-long program on behalf of the nonprofit that maintains America's last battleship.

The program will also feature patriotic music, a rifle salute and Echo Taps from atop turret one and superstructure, and a special Old Glory Detail by the Navy Region Hawaii Chief Petty Officers.
The anniversary event is free but reservations are encouraged, as space is limited. To RSVP online, click here. Guests are asked to be seated by 7:45 a.m. For individuals without base access, complimentary roundtrip shuttle bus service from the Pearl Harbor Visitor Center will be available beginning at 7 a.m.


The formal surrender aboard the USS Missouri followed V-E Day (Victory in Europe Day), May 8, 1945, when German troops laid down their arms after Germany surrendered to Allied Nations. Japan announced its surrender on Aug. 15 (Japan time) and formalized the agreement on Sept. 2 aboard the ship, thereby finalizing the Allies' victory over Axis Powers.


According to a press release issued by the anniversary event's organizers, Heilman joined the U.S. Marine Corps during WWII and completed boot camp as the highest scorer on the rifle range in his platoon. He was deployed to Okinawa, arriving during Kamikaze bombing raids on the fleet. He later served on occupation duty in Japan, flying as a radio operator on staff of the Commander of the Fifth Fleet, taking intelligence personnel to Hiroshima, Nagasaki and other sites in the Pacific, and even surviving an airplane crash on Iwo Jima. Sgt. Heilman was honorably discharged on Dec. 10, 1947.


Today, Heilman is chancellor of the University of Richmond and serves as spokesman for The Greatest Generations Foundation, a Denver-based, nonprofit sponsoring the return of 20 WWII veterans to Pearl Harbor this month.


Rear Adm. Girrier assumed duties as Commander, Carrier Strike Group Seven, USS Ronald Reagan Strike Group in February 2011. A graduate of the U.S. Naval Academy and a Surface Warfare Officer, Girrier most recently served as Commander, Carrier Strike Group Eleven, USS Nimitz Strike Group, from March 2010 to February 2011. From 2008 to 2010, he served as vice commander, Naval Mine and Anti-Submarine Warfare Command, with operational commander duties in 2nd, 3rd, 5th, and 7th Fleets. 

In additional sea tours, Girrier commanded Destroyer Squadron 15, from 2005 to 2007, forward deployed in Yokosuka, Japan.
Girrier is co-author of the professional naval books, Command at Sea, Watch Officers Guide and Division Officer's Guide.

For additional information about the Battleship Missouri Memorial, click here.