Pearl Harbor's Battleship Missouri Memorial to return from repairs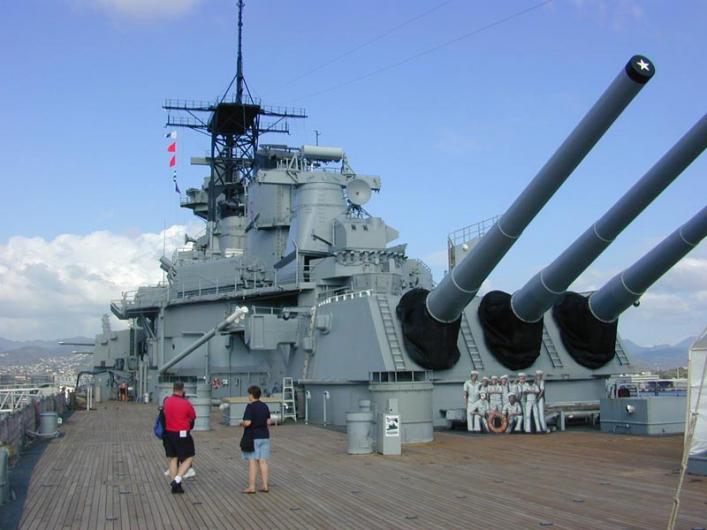 The "Mighty Mo" is making its return.
After being closed to the public for three months and $3 million worth of extensive restoration work, the Battleship Missouri Memorial will leave drydock tomorrow, returning to its home on Pearl Harbor's Battleship Row.
The Missouri closed for repairs last October, traveling over two miles to the Drydock 4 site across Pearl Harbor. Crews sandblasted and repainted the Missouri's 887-foot long hull and refurbished the ship's teak main deck, among other repairs. The restoration marked the first time the Missouri has left its Ford Island mooring since arriving in Hawaii in 1998.
Similar to the ship's October entry into drydock, the two-mile return trip will be a daylong process—with the flooding of Drydock 4 beginning in the early morning, and the towing of the ship to its home beside the USS Arizona Memorial in the afternoon.
Want to watch the Missouri's return for yourself? Your best bet would be from the grounds of the USS Bowfin Submarine & Park at around noon—when the ship exits drydock—until 3:30 p.m. Or you can visit the Missouri on January 15, when the Battleship Missouri Memorial has its soft reopening to the public. Guided tours will cost $20.
Next to the USS Arizona Memorial, the "Mighty Mo" is the most visited attraction at the Pearl Harbor Historic Sites, drawing as many as 48,000 visitors a month. The Missouri's deck was the site of Japanese surrender to U.S. forces on Sept. 2, 1945, ending World War II.