Pierce Brosnan eats sand on Maui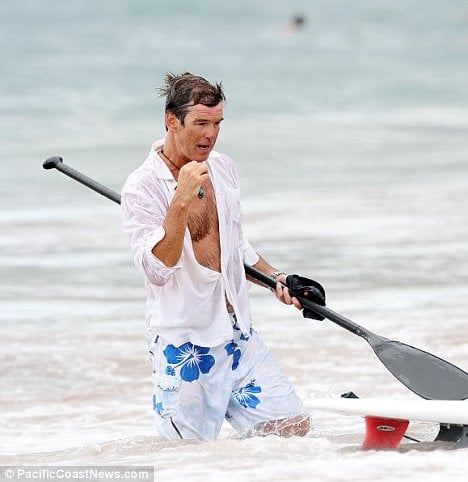 Actor Pierce Brosnan got more than a makeshift award from the folks at the Maui Film Festival last weekend. He also got a faceful of Wailea one maka (wet sand).
After doing some stand-up paddleboarding—itself a pretty silly looking activity—Brosnan made the critical error of not jumping off his surfboard before reaching the beach.
When his board hit the sand, Brosnan took a face-first tumble into the surf and nearly got hit by his own leashed board.
Our favorite moment? The former James Bond trying to look cool while exiting the beach soaking wet in an unbuttoned long-sleeved white linen dress shirt and flowered shorts combo while paparazzi shutters click away. He nearly succeeds.
Note to non-Hawaii residents: Pierce's is not couture we locals typically hit the beach with. And remember, just step off the board when the water's knee-deep or less.
Brosnan's OK. Click his bare chest in the photo above for the video.