Piggy Smalls: A Honolulu restaurant's cool spin on Vietnamese
The Pig & The Lady owner Andrew Le's second restaurant creatively spins comfort food dishes with a one-of-a-kind twist.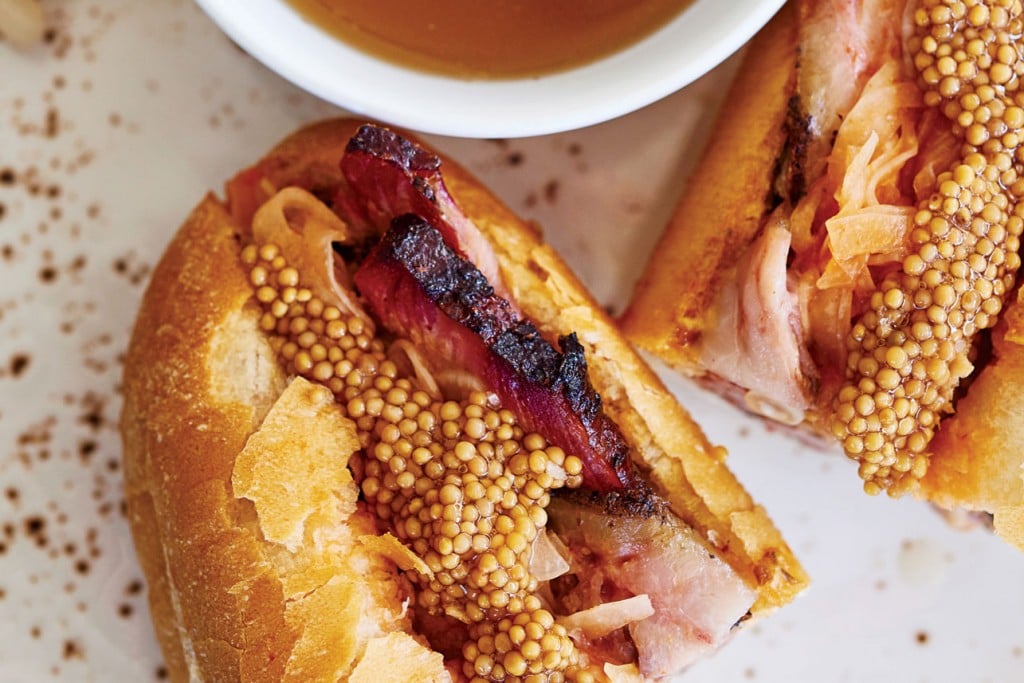 It's practically a TV commercial: hot bowls of pho, steam wafting into happy customers' faces as they slurp up noodles, their neighbors enthusiastically digging into giant banh mi overflowing with pastrami.
Piggy Smalls is the second restaurant by Andrew Le, the executive chef and owner of the Chinatown restaurant The Pig & The Lady. Its predecessor has won numerous awards for its innovative Vietnamese fusion food and the associated fame has given this little Piggy a long line out the door. After a 30-minute wait, we are seated at the window.
I can't help but do an immediate comparison: Piggy Smalls' décor is more playful and literally brighter in the middle of the Ward Village shopping complex on Ala Moana Boulevard. Natural light streams through its windows, as opposed to The Pig & The Lady's denlike brick interior. There's a large black-and-white illustrated mural of sea creatures on one wall by local artists Matthew Tapia and Steven Lam, and a pink neon-light display declares "It's All Good," setting the tone for this casual eatery.
The name, Piggy Smalls, of course, is a play on the popular 1990s rapper's name Biggie Smalls—Le is a big fan. "Blasting some Biggie Smalls, Wu Tang and Cypress Hill helps to motivate and get us through the work day," says Le, a nonstop human blur, running around the kitchen wearing a backward baseball cap.
Le didn't want an exact replica of The Pig & The Lady; he wanted a new take on flavors with only a few overlapping dishes. "Piggy Smalls is the younger brother of The Pig & The Lady, a little more hip hop and fun," says Le. "The flavor profile is more comfort-food inspired but also dynamic, as all eyes are on Ward and Kakaako as the urban center of Honolulu."
Le enlisted chef de cuisine Brandon Lee (that's Lee with two e's) to lead the team at Piggy Smalls. Lee has worked with The Pig & The Lady since it was just a pop-up concept at local farmers' markets five years ago, and now that he's at the helm of Piggy Smalls, he's letting his own brand of creativity fly. "With Piggy Smalls, we have many flavors and cuisines on the menu, like Hungarian, Indonesian and Moroccan," says Lee. "A lot of it is food I personally enjoy or was inspired by eating somewhere."
There are familiar dishes from The Pig & The Lady on the menu, like the L.F.C. (Laotian fried chicken), salad of sprouting seeds and Mama Le's pho bac. But I wanted to try Lee's newer items. Per our waitress' recommendations, we get started with the loaded baked potato beignets ($8) and the hurricane-style creamed corn ($9).
"Just so you know," she says, "we do everything family-style here, so we send dishes out as they come and you can share."
This works perfectly, since I steal everything from my husband's plate anyway.
The loaded baked potato beignets arrive first. Four incredibly light, fried pieces of dough resting on a potato and cheddar mousseline, sprinkled liberally with fried onions, ham "dust" and chives. It's like a healthier version of the baked potato, and we use the beignets to soak up every bit of the mousseline sauce.
The hurricane-style creamed corn is next. They're Lee's whimsical approach to hurricane popcorn, which is a local popcorn with arare and furikake. With this dish, he layers sweet creamed corn with furikake, kaki mochi and, instead of popcorn, it's popped sorghum.
"I like to think of my style of cooking as fun and nostalgic. I enjoy thinking about my own past and putting it on my plate and creating things that get to people's emotions," says Lee. "Hurricane popcorn is a local favorite and I love creamed corn, so I wanted to do it in a different way."
For the main entrees, we order the farmer's goulash ($17), a vegetarian stew with six delicate dumplings stuffed with potato and leeks. This traditional Hungarian dish has flavors that sing, a harmony of tomato, sweet paprika, pickled carrots and dill. I'm not a vegetarian, and rarely order meat-free meals, but Lee's talent for constructing a dish shines on this plate.
I get my meat fix with the pho-strami ($16), an overindulgent banh mi that I'd already seen all over social media: smoked pho-spiced beef pastrami, Sriracha onions, pickled mustard seeds and what is labeled as "awesome sauce." And this is awesome. With carnivorous enthusiasm, my husband and I dipped our halves of the sandwich into the accompanying pho broth and ate it, dripping juices and all. It's rich, as you would expect, but the tangy, sharp flavors from the sauce and pickled seeds magically balance everything.
Desserts are a big deal at The Pig & The Lady (it has its own bar), so I knew I had to save room to see what one-of-a-kind desserts pastry chef Regino Ojano created for Piggy Smalls. The milk & honey ($8) is not only delicious but also beautifully presented. An almost Bundt-like sponge cake is soaked in four kinds of milk honey, flecked with crunchy sweet comb candy and local bee pollen. Together with whipped Frangelico and edible flowers, this dessert is the best ending possible for a meal.
Lee has big plans for the future of Piggy Smalls, like a brunch menu and more new dishes. The restaurant has only been open a few months and is already a hit, so I can't wait to see where he takes it from here.
---
Piggy Smalls • Open Mon.–Sat. 11 a.m. to 9:30 p.m., Sun. 11 a.m to 4 p.m., 1200 Ala Moana Blvd., Oahu, (808) 777-3588, thepigandthelady.com.