Podcast Show Notes: Have Aloha Will Travel EP23
This week Cat and Kevin give listeners a behind-the-scenes look at what went into making HAWAIʻI Magazine's Jan/Feb 2020 issue.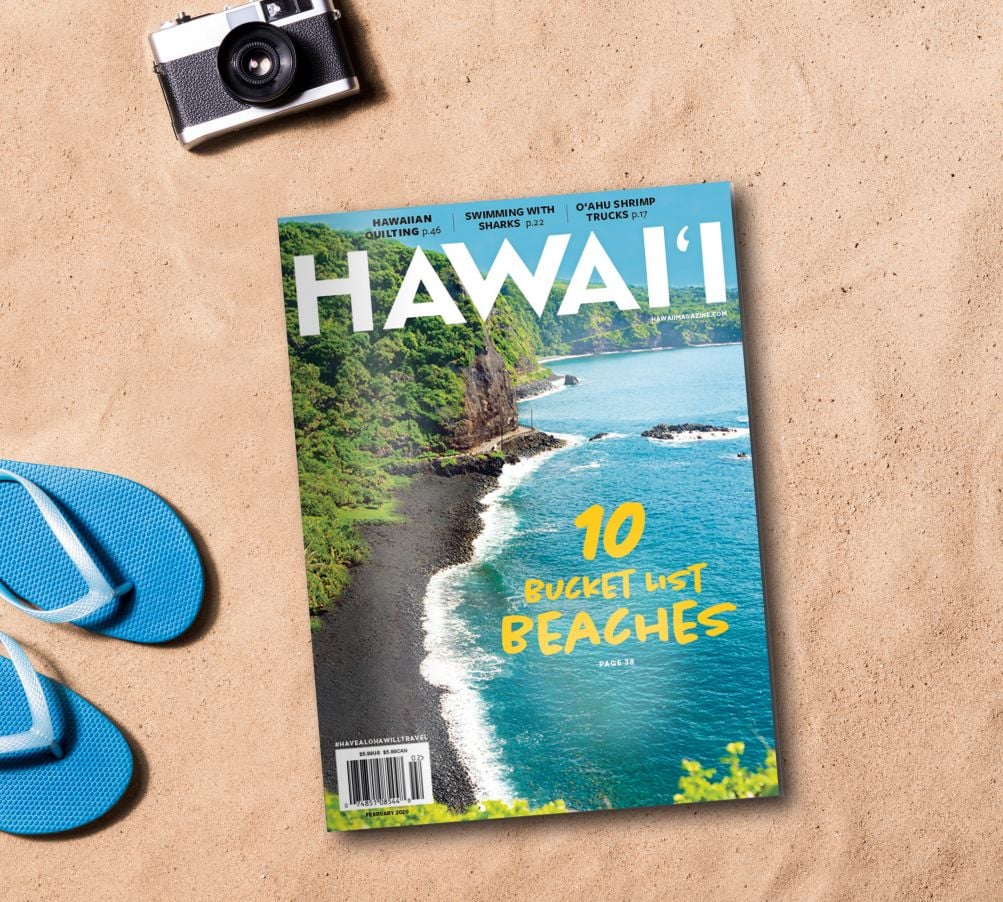 Kevin's back from his international travels—and Cat never left—so you know what that means: The Have Aloha Will Travel podcast is back in action, with your two favorite local hosts talking shop about everything and anything Hawaiʻi.
This week, the dynamic duo talks shop about HAWAIʻI Magazine's latest January/February 2020 issue. The main feature, "10 Bucket List Beaches," raises discussion about beaches like the mind-bogglingly long Pāpōhaku Beach, a private beach on Niʻihau and the famous Waimea Bay, which hosts The Eddie Big Wave Invitational.
Cat also shared her experience visiting the Panaʻewa Zoo, located in Hilo, which is smaller than The Honolulu Zoo but boasts its own eclectic collection of animals as well as a botanical garden. The gang also convened at Kahuku Farms to photograph their shrimp truck roundup feature, which included plates from Giovanni's Shrimp Truck, Honos Shrimp Truck, Big Wave Shrimp, Fumi's Kahuku Shrimp, Famous Kahuku Shrimp and Jenny's Shrimp (Kevin's favorite).
Finally, the last story discussed is a profile on Hawaiian Shochu Co., written by freelance writer Jackie Kojima. Ken Hirata and his wife, Yumiko, produces small handcrafted batches of sweet potato shochu (imo shochu) twice a year. To order a bottle for yourself—they go quick—email Hirata at kaloimo@gmail.com.
Got questions or comments? You can email us at media@hawaiimagazine.com. Follow us social media @hawaiimagazine, and be sure to subscribe to our channel on SoundCloud or iTunes. Also, be sure to check out our Shopify for HAWAIʻI Magazine products.