POG lives!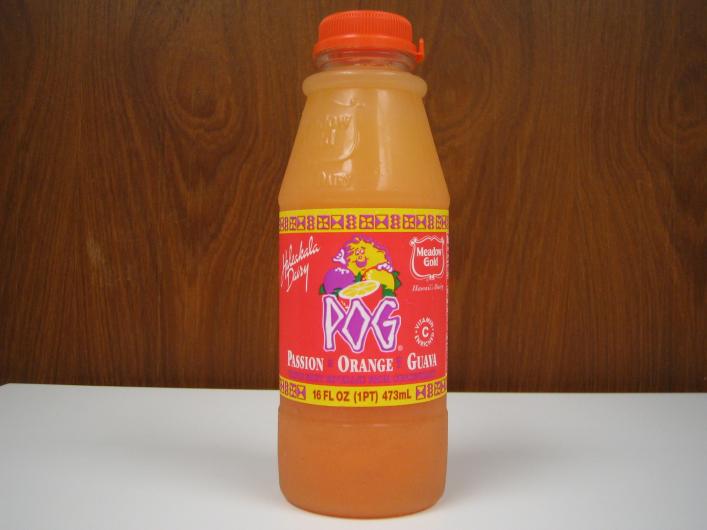 You ask. We answer.
Reader Joyce Beers wrote to us with a question about her beverage of choice when she's in Hawaii: POG.
POG is a blend of passionfruit, orange and guava juices. Joyce read in HAWAII Magazine's current issue that Guava Kai Plantation on Kauai had shut down, and wanted to know if POG would be gone from Hawaii supermarket shelves the next time she visited.
Joyce, we're happy to report that you'll be able to drink all the ice-cold POG you want on your next Hawaii trip.
A spokesperson for Meadow Gold Dairies told us that the bottled-in-Honolulu beverage is the company's top-selling nectar flavor. Hawaii residents snap up more than 1.3 million gallons of the stuff EACH MONTH.
On the Mainland, POG is limited to select stores in California, Oregon, Washington and, occasionally, Montana and Alaska. (Click here for another HawaiiMagazine.com post listing Mainland U.S. POG retailers.)
Don't live anywhere near those states? Send a request to Meadow Gold Dairies at info@lanimoo.com and they'll be happy to give you the lowdown on shipping a non-refrigerated concentrate of POG to your door by mail. (Lani Moo, by the way, is Meadow Gold Dairies' bovine mascot.)
Joyce's query reminded us that although we live in Hawaii, we hadn't consumed the bright orange beverage (originally bottled on Maui by now defunct Haleakala Dairy) in a long time. So we sampled a bottle.
Our reactions:
John Heckathorn: "This is exactly what the Islands taste like."
Derek Paiva: "I'm sad I don't have an oceanside breakfast—Portuguese sausage, rice, eggs, fresh papaya—to go along with this."
Sherie Char was out of office and missed our POG tasting. She'll be plunged in deepest gloom when she reads here that she missed it.
Anybody else out there love the POG?